I went to NYFW with 3 amazing women and fellow bloggers this year, we had the best time, no drama and tons of fun!!  From left to right:  Debby Allbright of Fashionomics, Tiffany Davros of Street Style Squad, and Cathy Williamson of The Middle Page.  I love these girls so much, they're by far the best thing that has come from my blogging!  We were all attending the Reward Style Party that evening!

My entire look is 25% off thanks to the amazing SALE Neiman Marcus is having!  They're offering 25% off site wide all (well most) full priced items!  This is a great time to stock up on some fall favorites for your fall and winter wardrobe like my fur jacket by Alice and Olivia.  I splurge on one or two pieces every season and it's usually a jacket and or a handbag.  This fabulous baby blue fur jacket was my splurge for this season and I'm obsessed with it!  It not only looks good worn over dresses or with skirts, but my favorite way to wear it is with a pair of ripped jeans, a simple tee,  and booties or sneakers.  I wore it casual like this our last day in NYC and got tons of compliments on it!  It super soft and cozy and the color is so gorgeous!  It runs true to size, I'm wearing a size XS.  This is an investment piece you'll have in your closet for many seasons to come if you decide to make the splurge too, trust me, you'll be glad you did, I know I am!  I also linked this similar baby blue furry jacket at a much lower price point that I love too!  
My leather dress is also by Alice and Olivia, this is another timeless investment piece that I'll have in my closet for many seasons to come and so will you if you decide to purchase it!  A leather dress is a definite wardrobe staple, it's edgy and effortless at the same time, it could be worn on a date night, a fun GNO, and also perfect for an evening party or event!  If you have any holiday parties coming up this dress would be perfect!  This fit is impeccable and extremely flattering, it runs true to size, I'm wearing a size 0.  I also linked a similar black slip dress for much less that you could easily wear with this jacket and these heels.  
I'm in love with these incredibly chic metallic gun metal heels by Stuart Weitzman and I'm literally obsessed with them!  They go with everything because of their gorgeous dark silver shade and they're much more comfortable than the original Nudist heel by Stuart Weitzman because the heel height is 4 inches instead of 5 and trust me, that makes a big difference!  These will be my go-to heel this season, I'll be wearing them a ton with dresses, skirts, and of course jeans!
NEIMAN MARCUS TOP SALE PICKS ALL 25% OFF (SALE ENDS SUNDAY AT MIDNIGHT):
TOPS:

JEANS:

JACKETS:

CHECK OUT MY INSTAGRAM SHOP HERE TO SHOP ALL OF MY INSTAGRAM LOOKS
STAY IN THE KNOW:  Don't forget to sign up for my exclusive News Letter –  Sign up by clicking here.
Thank you so much for stopping by today, I truly appreciate all of you!  XOXO, Heather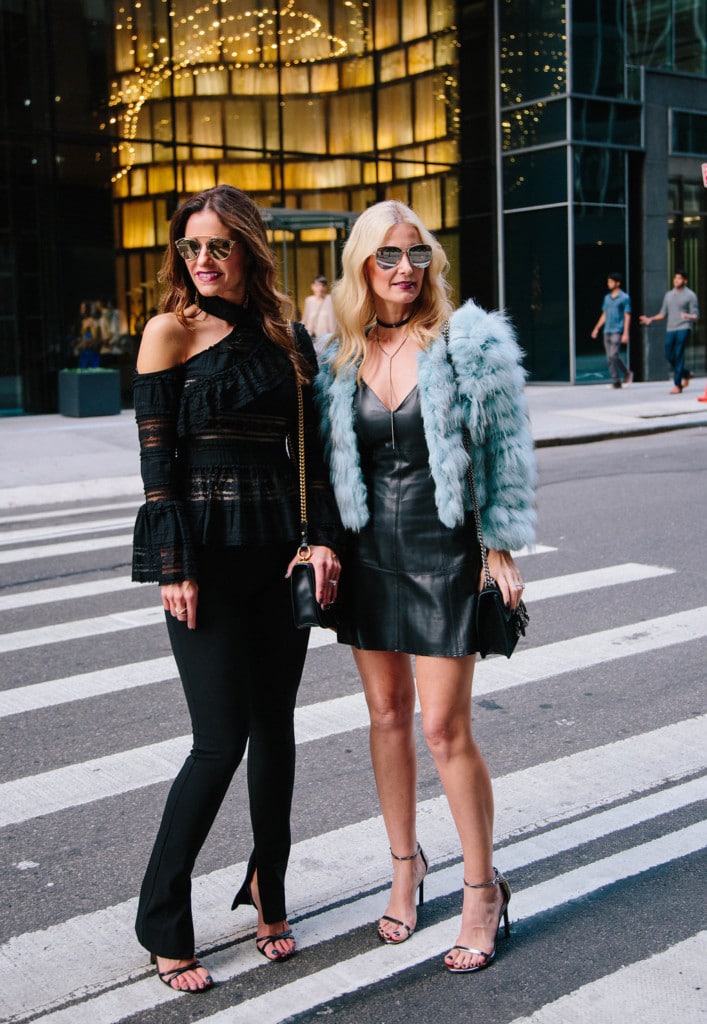 ALICE AND OLIVIA FUR COAT WEARING A SIZE P // ALICE AND OLIVIA LEATHER DRESS // STUART WEITZMAN HEELS // GUCCI HANDBAG