It's that time again, our CHIC AT EVERY AGE series featuring THE PERFECT VELVET TOP:
20'S LOOK – ONE SMALL BLONDE // 30'S LOOK  – STYLE OF SAM // 40'S LOOK ME // 50'S LOOK – THE MIDDLE PAGE
The holidays are approaching fast, I can't believe how quickly this year has flown by!  I'm sure all of you have some fun holiday parties and events to attend or maybe some upcoming GNO's and New Year's Eve will be here before we know it too!  Well, we've found the perfect black velvet top that you could wear to any of the above festivities!  As you can see this chic black velvet top by Paige Denim can easily be styled various ways.
I chose to pair mine with my new favorite faux leather leggings by AG, which are 40% off by the way, grab a pair before they sell out!  I would wear this exact outfit to a holiday party or for a more casual New Year's Eve look.  I love how Brooke styled it, you can never go wrong with all black, so chic and sophisticated.  Sam paired hers with white denim flares, so unexpected and fabulous!  Cathy chose to wear hers with an amazing black fur vest and gray skinny jeans, perfect for a date night or GNO!
YOU CAN VIEW ANOTHER POST I DID IN THE AG FAUX LEATHER LEGGINGS BY CLICKING HERE.
Since this top is sheer I wore my favorite Coobies black lace bra underneath, I love how just a tiny bit of the black lace shows up, so sexy and effortless.  This GORGEOUS velvet blouse will be my go-to top when dressing for all of my holiday events and parties!!
SALE ALERT:  My amazingly comfortable black suede booties just got marked down 40%!!  Originally $158.05 on sale for $95.37, such a steal for these fabulous suede booties!!   
CLICK TO SHOP MY LOOK: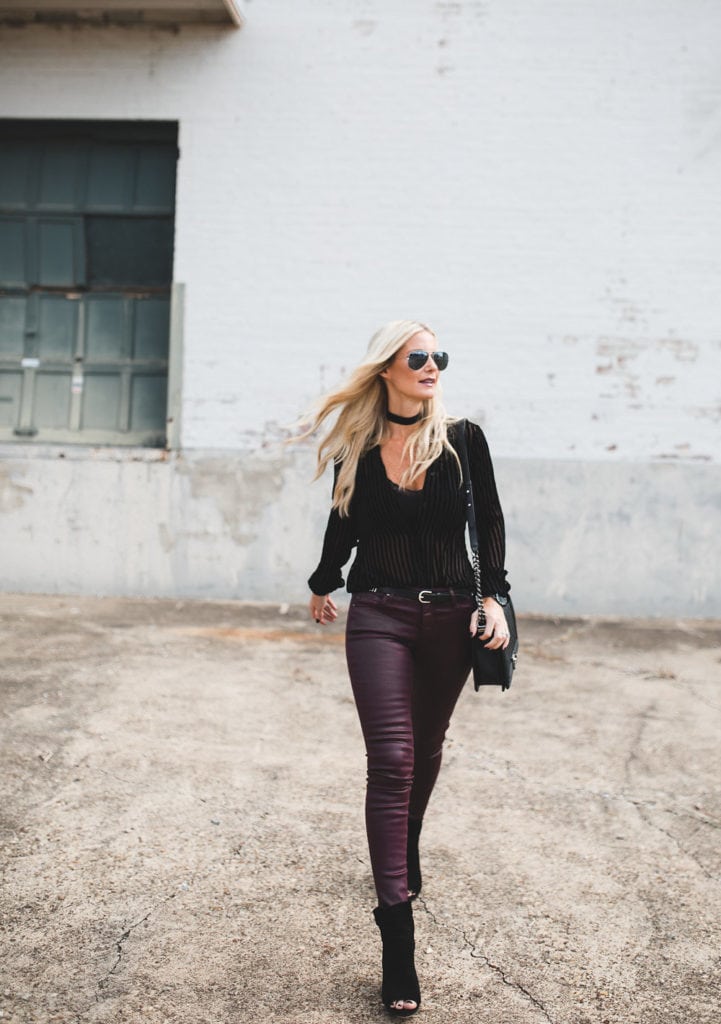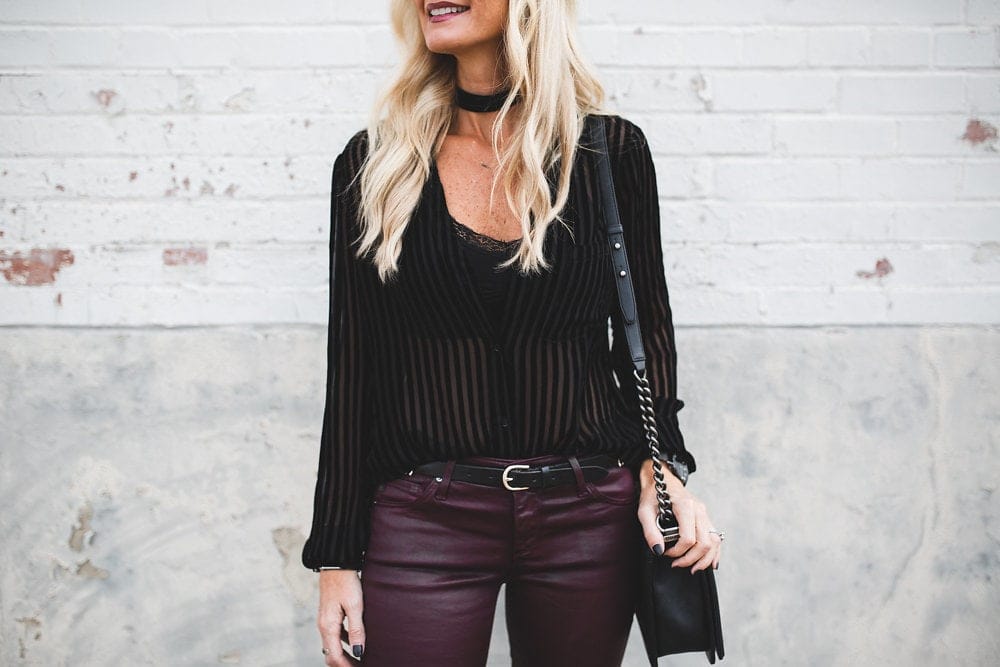 BLACK VELVET TOP WEARING A SIZE S // AG LEATHERETTE LEGGINGS WEARING A SIZE 25 (40% OFF!) // VINCE CAMUTO BLACK BOOTIES  (40% OFF!) // CHANEL BOYBAG SIMILAR HERE ON SALE // SILVER RAYBANS // BLACK VELVET CHOKER
Thank you so much for stopping by today!  I'm so grateful for all of you!!  XOXO, Heather
STAY IN THE KNOW:  Don't forget to sign up for my exclusive News Letter – I share hot trends, amazing sale alerts, giveaways, and much more!  Sign up by clicking here.
PHOTOGRAPHS BY MARY SUMMERS OF M.A.S. PHOTOGRAPHY