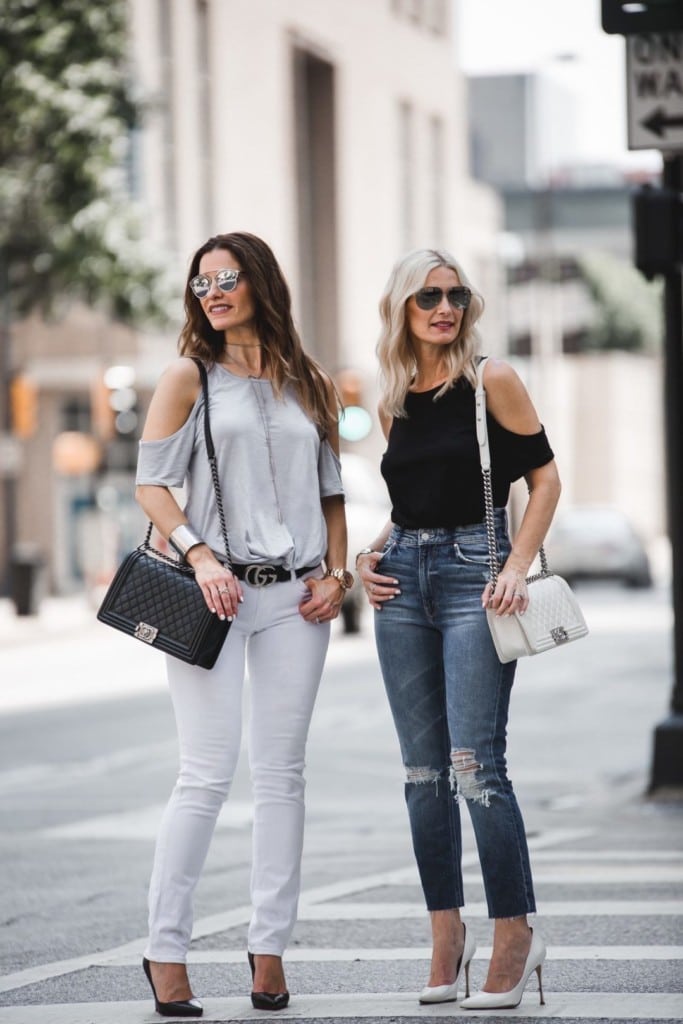 Another 'Streed Edit' is here with my good friend and fellow Dallas Fashion Blogger, Tiffany Davros, of Street Style Squad.   We chose to feature to feature this easy and effortless cold shoulder tee that's ON SALE for only $17.90!  

BEST LABOR DAY SALES:
NORDSTROM IS OFFERING UP TO 40% OFF – ITEMS I HAVE FEATURED ON MY BLOG ALL ON SALE
TOPS:

JACKETS:

HANDBAGS:

SHOPBOP IS OFFERING UP TO 70% OFF – SHOP TOP SALE PICKS UNDER $100 HERE
REVOLVE IS OFFERING UP TO 70% OFF
COLLEEN ROTHSCHILD IS OFFERING 20% OFF WITH CODE SOHEATHER
CAMINYC IS OFFERING 30% OFF WITH CODE SOHEATHER
BANANA REPUBLIC IS OFFERING 40% EVERYTHING (I REALLY LOVE THIS SILK BOMBER JACKET)
J CREW IS OFFERING 30% OFF WITH CODE YESPLEASE
First off, let me start by saying that a good BLACK TEE is a definite wardrobe staple.  I buy at least one new black tee every season and this one is my absolute favorite!  It's super soft and comfortable and looks good tucked in like I have done in today's post, but also looks super cute the way the model is wearing it, untucked.  This tee is definitely not your average tee, the cold shoulder style is so on trend and I love the knot detailing at the bottom.  This tee looks amazingly chic by itself, but is also the perfect layering tee to wear under your favorite blazer or moto jacket.  The best part about this fabulous tee, IT'S ON SALE FOR ONLY $17.90, for that price you should get all 3 colors!  It also comes in white and gray which I love too!  This versatile tee will be a great addition to any wardrobe, that I know for sure!
YOU CAN VIEW ANOTHER POST I DID IN THE WHITE VERSION OF THIS TEE BY CLICKING HERE.
If I had to pick one pair of denim in my closet that's the most fashion forward it would be these for sure!  I love the waist line, it's actually higher in the back than in the front so it makes your waist look super tiny!  They are high-rise so they make your legs look ridiculously long and I love the distressing, it's not only in the front, but perfectly done on the back pocket so you not only look good from the front in these jeans, but even more so from the back making them that much better than your average pair of denim!  What I really love about these jeans is that they're incredibly comfortable and they don't really stretch out that much, maybe a little, so if your between sizes I suggest going with the smaller size, I'm wearing a size 25.  I had my tailor cut the bottoms right above my ankle bone leaving the raw edge hem so I could show off my favorite pair of heels!  These are my go-to jeans when I'm going on a girl's night out or a date night and I'm sure if you get them they will be for you too!
I got these chic white pumps at Shopbop, they really take any look to the next level!  They're by Sam Edelman, and very comfortable for a closed toe shoe, Shopbop has a great selection of Sam Edelman shoes, you can view them all by clicking here.  White pumps are the perfect heel for the office, a date night or fun girl's night out!  If you don't already own a pair of white heels, trust me, you need to!
YOU CAN VIEW ANOTHER POST I DID IN THESE EXACT JEANS BY CLICKING HERE.
CHECK OUT MY INSTAGRAM SHOP HERE TO SHOP ALL OF MY INSTAGRAM LOOKS
STAY IN THE KNOW:  Don't forget to sign up for my exclusive News Letter –  Sign up by clicking here.
Thank you so much for stopping by today, I truly appreciate all of you!  XOXO, Heather
MOTHER DENIM JEANS WEARING A SIZE 25 // COLD SHOULDER TEE WEARING A SIZE XS // CHANEL BOYBAG SIMILAR // WHITE PUMPS // MIRRORED SUNNIES
PHOTOGRAPHS BY MARY SUMMERS OF M.A.S. PHOTOGRAPHY
Share the post "THE STREET EDIT FEATURING THE PERFECT COLD SHOULDER TEE ONLY $17 + THE BEST LABOR DAY SALES"