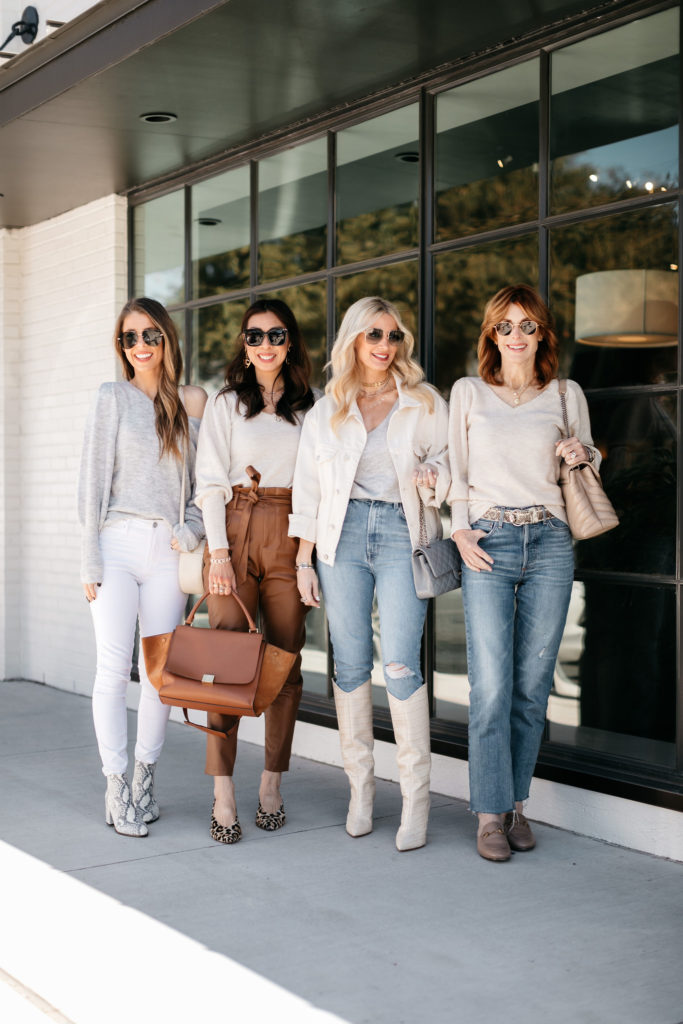 It's that time again, our CHIC AT EVERY AGE series featuring the BEST SPRING SWEATER, it's crazy soft and under $100!
Natalie Keinan of THE FASHION HOUR  // Samantha Stewart of  STYLE OF SAM // Cathy Williamson of  THE MIDDLE PAGE
 SHOP MY LOOK (JACKET AND JEANS ARE UP TO 25% OFF):

TGIF!  Anyone else so happy the weekend is here?!  I know I am!  We all fell in love with this crazy comfy and incredibly soft
$75 sweater
the moment we laid eyes on it!  It's a great piece to incorporate into your spring wardrobe because it allows you to look springy while still staying warm.  I promise there will be plenty of cold days left in spring which I'm not looking forward to, lol!  We've all styled it 4 different ways proving it's versatility and wearability.
The best part, my jeans, necklaces, and my chic denim jacket are all up to 25% off thanks to the amazing SHOPBOP SALE! Scroll down to view my outfit details and find out why I love each piece and why they would all be great additions to any spring wardrobe especially because they're all ON SALE!
OUTFIT DETAILS:
This amazing sweater is super soft and comfy and I adore the puff sleeves! It's not itchy at all which is something I always look for in a good sweater.  Also, the v-neckline is perfect for showing off a few of your favorite necklaces and some of mine are ON SALE TODAY thanks to the epic SHOPBOP SALE.  I love it worn by itself, but it also looks super chic worn under one of your favorite jackets like I've styled it in this post. The best part about this sweater is that it's only $75! It comes in 4 different colors and runs true to size, I'm wearing an XS.
This pair of denim is so good because of the uber high-rise and cool faded light wash. These jeans are definitely guaranteed to make you look taller and slimmer, need I say more?! They're up to 25% off thanks to the epic SHOPBOP SALE. In fact, these jeans were featured in Wednesday's Shopbop SALE POST. You really can't go wrong with these because they are super comfortable with some stretch and perfect for spring! They run true to size, I'm wearing a size 25.
These beautiful ivory boots are absolutely stunning and perfect for spring. I love that these are way more expensive than they really are because of the croc-embossed leather! Also, this neutral shade is one of my favs because it goes with everything. Since the heel height is only about 3.5 inches, they're super wearable and comfortable for a heel. I definitely recommend investing in a pair of these! If you're looking for other ways to style these boots, I featured them a ton in a recent YouTube video titled: 6 WAYS TO WEAR A GRAPHIC TEE. I'm wearing a size 8.
I'm so in love with this ivory jacket by Agolde because it goes with so many pieces and it's super easy to throw on for any occasion! I really like the fact that it's a denim jacket yet a bit different due to the neutral ivory color. Speaking of the color, it's perfect to pair with light wash denim for spring! This is also 25% off on SHOPBOP right now making it a major steal. This jacket is the perfect piece to elevate your spring wardrobe. This jacket runs true to size and I'm wearing size XS.
NECKLACES:
3 of the 4 necklaces I'm wearing are also all part the SHOPBOP SALE!  I wear this one by Adina Reyter literally every single day and never take it off! I love it layered with this other Adina Reyter necklace and this super cool gold chain necklace by Jennifer Zener! Simple accessories like these can take your look to the next level making you look more chic than ever!
GREY PUFF-SLEEVE SWEATER WEARING A SIZE XS // J BRAND LIGHT WASH DENIM WEARING A SIZE 25 // SCHUTZ IVORY CROC-EMBOSSED BOOTS WEARING A SIZE 8//  AGOLDE IVORY DENIM JACKET WEARING A SIZE XS // ADINA REYTER NECKLACE // JENNIFER ZENER GOLD CHAIN NECKLACE 
FEEL FREE TO SUBSCRIBE TO MY NEW YOUTUBE CHANNEL FOR STYLE, BEAUTY, AND FITNESS TIPS TO HELP WOMEN LOOK AND FEEL CONFIDENT
CHECK OUT MY INSTAGRAM SHOP TO SHOP ALL OF MY INSTAGRAM LOOKS
YOU CAN ALSO DOWNLOAD THE LIKETOKNOW.IT APP AND FOLLOW ME ON IT BY CLICKING HERE.
STAY IN THE KNOW:  Don't forget to sign up for my exclusive News Letter for AMAZING STYLE TIPS, SALE ALERTS, AND MUCH MORE!
Thank you so much for stopping by today, I truly appreciate all of you!
XOXO, HEATHER
BEST SPRING SWEATER
Share the post "CHIC AT EVERY AGE FEATURING THE PERFECT UNDER $100 SWEATER FOR SPRING"