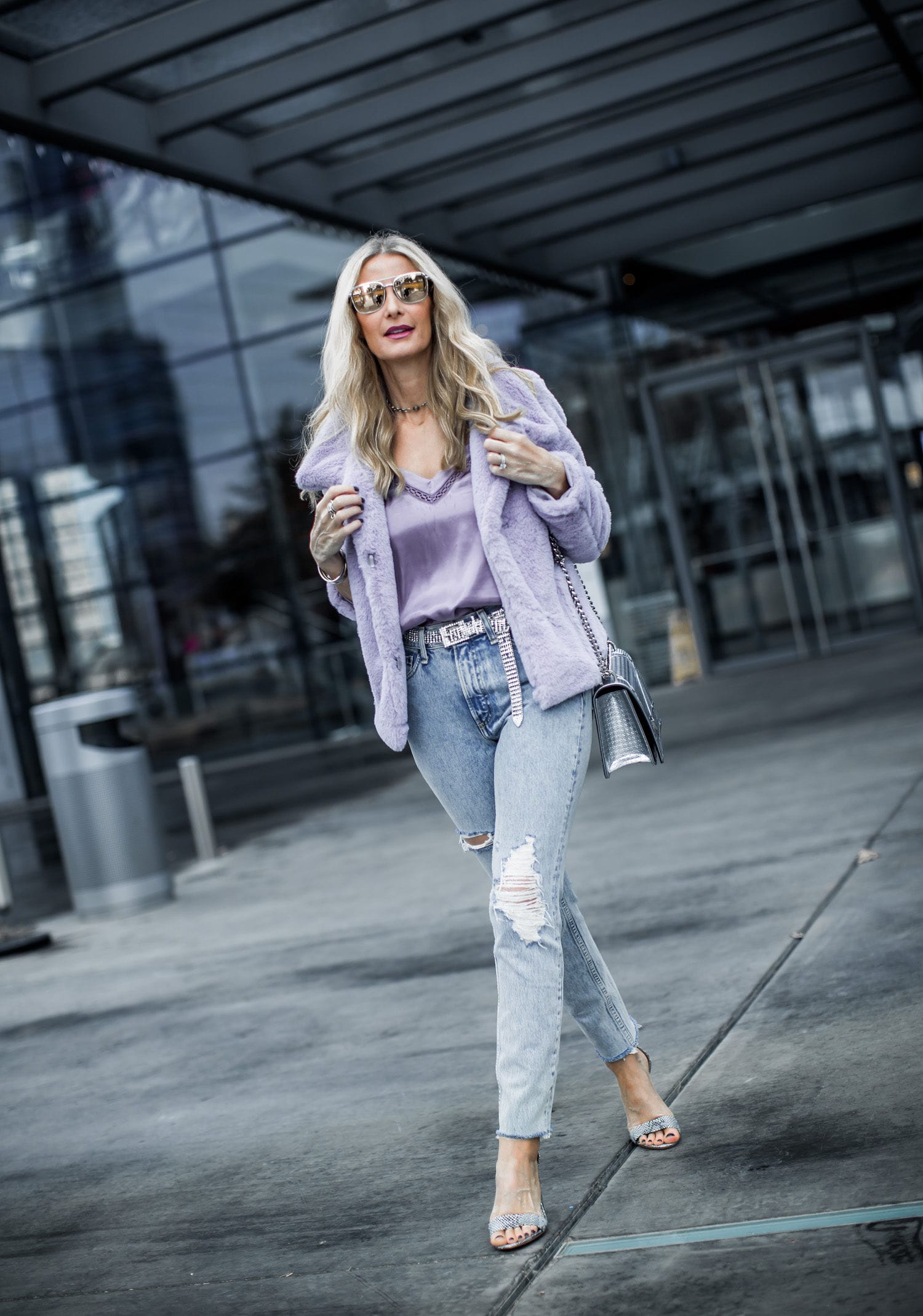 Good morning beautiful ladies!  I just got back from LA last night and I'm so tired today!  We shot a fun video with Rachel Zoe at her office on Melrose.  You can check out the video by clicking HERE, I'll be doing a full blog post with all the amazing details next week, so stay tuned!
SHOP MY LOOK:

BEST COLOR FOR SPRING 2019: LAVENDER
Let's talk spring fashion ladies – pastels are a huge trend this spring and one that I'll be wearing a ton!  Anyone else a huge fan of pastels?  My personal favorite pastel color to wear is lavender, it's such a pretty color that really looks good on almost any skin tone.  I love lavender paired with light denim, gray denim, and even white denim in the spring and summer.  If I had to pick the best color for spring 2019 it would hands-down be lavender!  Scroll all the way down for all of my luscious lavender picks all so perfect for spring and summer!
OUTFIT DETAILS:
LAVENDER FAUX FUR JACKET: ON SALE FOR UNDER $55!
I adore wearing light colored faux fur or leather jackets in the springtime.  It's still cold out some days so this lighter color of outwear is a great thing to wear to incorporate spring colors into your wardrobe yet still stay cozy and warm!  Can I just tell you that this lovely lavender faux fur jacket is like the softest thing I've ever put on my body?!  I literally feel like I'm wrapped up in a cozy blanket when I have this jacket on.  Wear this uber chic jacket over a satin cami or sleek white bodysuit for a date night or girls night out or pair it with a cashmere sweater and some white ankle booties or some chic sneakers for a more casual but polished ensemble.  The best thing about this plush faux fur jacket it's ON SALE for only $54.90! There are only limited sizes left so grab it before it sells out.  It runs true to size, I'm wearing an XS.  In case this one sells out before I publish this post I found this one by Lovers + Friends that I love too and it's very similar!
LAVENDER SATIN CAMI: ON SALE FOR UNDER $50!
This is such a good cami to wear under all of your favorite jackets.  I personally live in cami's and literally wear them all the time under leather jackets, faux fur jackets and denim jackets all year round.  This gorgeous cami comes in 6 stunning colors, I have the light gray too and love that shade for spring and summer too!  This cami is currently 40% off making it ring in under $45, quite a steal for such a chic piece you'll definitely get your wear out of, I know I do!
RAG AND BONE JEANS (WEARING A SIZE 25):
In case you haven't heard, the 'IT' style of denim for 2019 is the high-waisted straight leg cut which is by far one of my favorite styles of denim to wear!  The highrise silhouette is the most flattering of all rises to wear because it sits on or above your belly button making your legs appear longer and you appear taller and let's face it, who doesn't want that?!  I also love that these are an ankle length because they not only allow you to show off your favorite heel of the moment, but this length of denim also elongates the legs.  This light wash with the edgy distressing is so on trend this season and will go all of the pretty pastel colors for spring.  These jeans are more of a rigid denim but they do have a little stretch to them so they're pretty comfortable for a pair of rigid denim jeans.  Since they are more of a rigid denim size down if you're between sizes.  I took my regular size in these super chic jeans which is a 25.
SAM EDELMAN SNAKE PRINT HEELS:
I think this like the 3rd or 4th time I've featured this killer snake print heels on my blog in the last month or so because they're that good!  Snake print is another one of my favorite spring trends so when I saw these chic heels I knew I had to have them.  They go with a ton because snake print, especially in this gray shade, is such a neutral color that will pair well with all of the spring colors!  The block heel makes these shoes very comfortable and wearable which is something I always look for when I purchase a pair of heels.  The price point is amazing too, by the way, only $139 for these sleek snake print heels! I also own the nude, the gold, and the black because these heels are so good!  They come in like 12 colors and at this price, you don't need to feel guilty about adding a few to your shoe collection!
GRLFRND SILVER BELT:
If I had to pick one accessory to add to my spring wardrobe it would be this one!  This uber chic belt seen on tons of celebs and mega influencers is the perfect topper to any look sure to bring it the next level!  I've only had it like 6 weeks and already worn it a ton with jeans of course and simple tees and all of my favorite jackets. This belt sold out so quickly but is now available for pre-sale and will be delivered at the beginning of April.  If you only add one spring accessory to your wardrobe, let it be this cool-girl belt!
SILVER HANDBAG:
I had someone DM me on Instagram and say they would have never considered getting a silver handbag until they saw me carrying one.  Seriously, a silver handbag is so versatile because it literally matches everything!  I got this silver Dior bag last summer and have already carried it a ton so I'm sure I'm getting my cost per wear out of it.  I realize this Dior bag may not be in everyone's budget so I found this one by Rebecca Minkoff and I'm obsessed!  It will go with so many looks dressy and casual.  Trust me, if you decide to grab one you'll carry it more than you think!
DON'T FORGET TO SCROLL ALL THE WAY DOWN FOR ALL OF MY LUCIOUS SPRING LAVENDER PICKS.
Please feel free to email me at [email protected] if you have any questions!  I'm always happy to help with styling or picking out a specific outfit for an event!   Have a fabulous day!!
CHECK OUT MY INSTAGRAM SHOP HERE TO SHOP ALL OF MY INSTAGRAM LOOKS
YOU CAN ALSO DOWN LOAD THE LIKETOKNOW.IT APP AND FOLLOW ME ON IT BY CLICKING HERE.
STAY IN THE KNOW:  Don't forget to sign up for my exclusive News Letter –  Sign up by clicking here.
Thank you so much for stopping by today. I truly appreciate all of you!  XOXO, Heather
FAUX FUR JACKET WEARING A SIZE XS // LAVENDER SATIN CAMI WEARING A SIZE XS // RAG AND BONE JEANS WEARING A SIZE 25 // SILVER BELT BY GRLFRND // SAM EDELMAN SNAKE PRINT HEELS // DIOR HANDBAG SIMILAR HERE
LAVENDER SPRING PICKS: