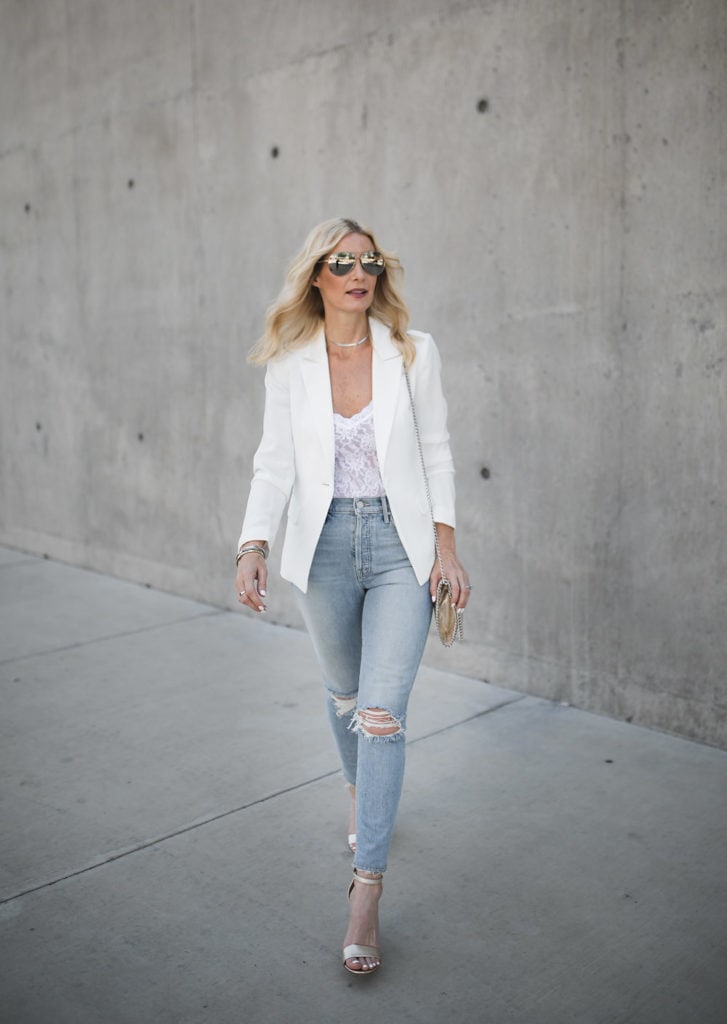 Happy Wednesday friends!  I'm so excited to be teaming up with Nordstrom today featuring this AMAZING under $100 white blazer styled 2 ways!
LOOK 1:

LOOK 2:

A good white blazer is a definite wardrobe staple!  It can be worn so many places and styled so many ways.  You can wear it to the office styled like I wore it in look 2, just swap out the black ripped jeans for some sleek black pants.  I would wear either of these looks on a date night, girl's night out, Sunday brunch or lunch with my girl friend's.  This particular white blazer is by Mural, one of my favorite designers Nordstrom carries.  They make high quality pieces at amazing prices!  This chic blazer is wrinkle free, the fabric feels so nice on and the fit is impeccable, very flattering. It runs true to size, I'm wearing a size XS.  It comes in 3 colors including black and blush pink and it's only $75, quite a steal for such a fabulous jacket!  Trust me, you'll end of wearing this chic blazer with so many things and to so many places, I sure do!
DETAILS IN LOOK 1:
My metallic clutch is new favorite of mine!  I'll be carrying it with all of my spring looks, dressy and casual.  I'm carrying it on Easter Sunday wearing a chic white off the shoulder dress and the metallic heels from this post as well!  This clutch matches these heels perfectly, both 2 spring staples I couldn't live without and both amazing prices!!
My ripped jeans are by Mother, one of my favorite denim designers.  They're high-rise and the light denim wash is so versatile and perfect for spring and summer, but can certainly be worn all year round!  These jeans don't have as much stretch in them which I like because they've done a great job at holding their shape!  I had them hemmed by my tailor and made sure to leave the original hem attached since it was so cool and distressed.  I love having my spring and summer jeans hemmed so they hit me right above my ankle, this allows me to show off my favorite heels!  These jeans runs true to size, I'm wearing a size 25.
YOU CAN VIEW ANOTHER POST I DID IN THESE EXACT JEANS BY CLICKING HERE.
My sexy lace tank adds the perfect edgy and feminine touch to any look!  I've already worn this lace tank a ton under leather jackets, bomber jackets and moto jackets.  It really takes any look to the next level and for only $52 it's a no brainer!
DETAILS IN LOOK 2:
My black jeans are by Citizens of Humanity, they're high-rise and perfectly distressed!  They do a great job at holding their shape, I've owned these jeans for over a year now and I find myself still wearing them a ton!  If you don't already have a good pair of faded black jeans I highly recommend trying these, they're super flattering!  They run true to size, I'm wearing a size 25.
My snake skin heels have been a hot item lately on my blog.  I put them on Instagram about a week ago and have already sold a ton!  They're super cool and edgy and look amazing paired with jeans and a simple tee and also look super fab with dresses or skirts too!  They also come in solid black and camel, 2 great versatile colors.  They have a platform so for a heel they're actually very comfortable.  I'll be wearing these heels a ton this spring and if you decide to get them I'm sure you will be too!
Thank you so much for stopping by today and shopping with me!  I really appreciate each and every one you!  Have a fabulous week!
Thank you, Nordstrom, my favorite retailer, for sponsoring this post!
LOOK 1:  WHITE BLAZER WEARING A SIZE XS // MOTHER DENIM JEANS WEARING A SIZE 25 // WHITE LACE TANK // STEVE MADDEN HEELS // METALLIC CLUTCH // SILVER CHOKER // MIRRORED SUNGLASSES
LOOK 2:  WHITE BLAZER WEARING A SIZE XS // CITIZENS OF HUMANITY BLACK JEANS WEARING A SIZE 25 // GUCCI BELT SIMILAR // SNAKESKIN HEELS // HANDBAG OLD SIMILAR // SILVER CHOKER // MIRRORED SUNGLASSES
STAY IN THE KNOW:  Don't forget to sign up for my exclusive News Letter – I share hot trends, amazing sale alerts, giveaways, and much more!  Sign up by clicking here.
PHOTOGRAPHS BY MARY SUMMERS OF M.A.S. PHOTOGRAPHY