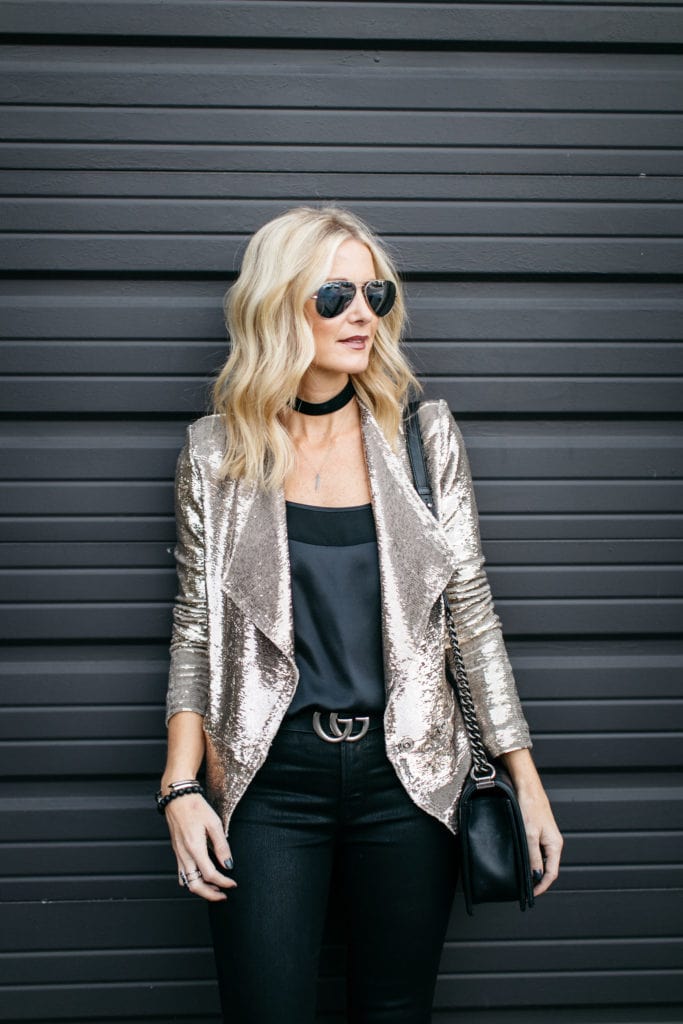 Can you believe New Year's Eve is only 10 days away…me neither!  This year has flown by, the older I get time seems to go by much faster!  I remember I attended a holiday party last year at Forty Five Ten, one of the most amazing upscale boutiques in Dallas, they just opened up a brand new store in down town Dallas about a month ago, the most GORGEOUS clothing store I've ever been in, EVER!  It's a definite must see, if you haven't been yet, I highly recommend grabbing your BFF or your Mom and making a day of it, it's well worth it!
Anyway, at this holiday party I spotted a gorgeous girl wearing the coolest gold leather jacket with an all black ensemble underneath, similar to what I'm wearing in this post, she stood out in the crowd and looked so polished and put together, ever since I've been on the hunt for an amazing gold jacket.  When I stumbled upon this one while shopping in Nordstrom a while back it was love at first sight!  This chic jacket is the PERFECT for all of your holiday soirees, but can also be worn on a date night or a fun GNO.  It's by Iro, one of my all time favorite french designers, it's a bit expensive so I found a great look alike that I adore too by Nicole Richie from Revolve.  This gold Iro jacket runs a bit big so I would size down one size, I'm wearing a size 34.  This is a great investment piece and won't go out of style for a really long time, trust me!  I'll be wearing mine for many years to come with leather pants or ripped jeans, it's definitely one of my all time faves!
My Jimmy Choo VELVET lace-up booties are on MAJOR SALE at Saks right now, originally $895 marked down to $501, what a steal!  I also found some similar lace-up booties that I wear a ton for a fraction of the price, they're by Sam Edelman and they're AMAZING!  Click here to see a post I've done in the Sam Edelman booties.  
CLICK TO SHOP: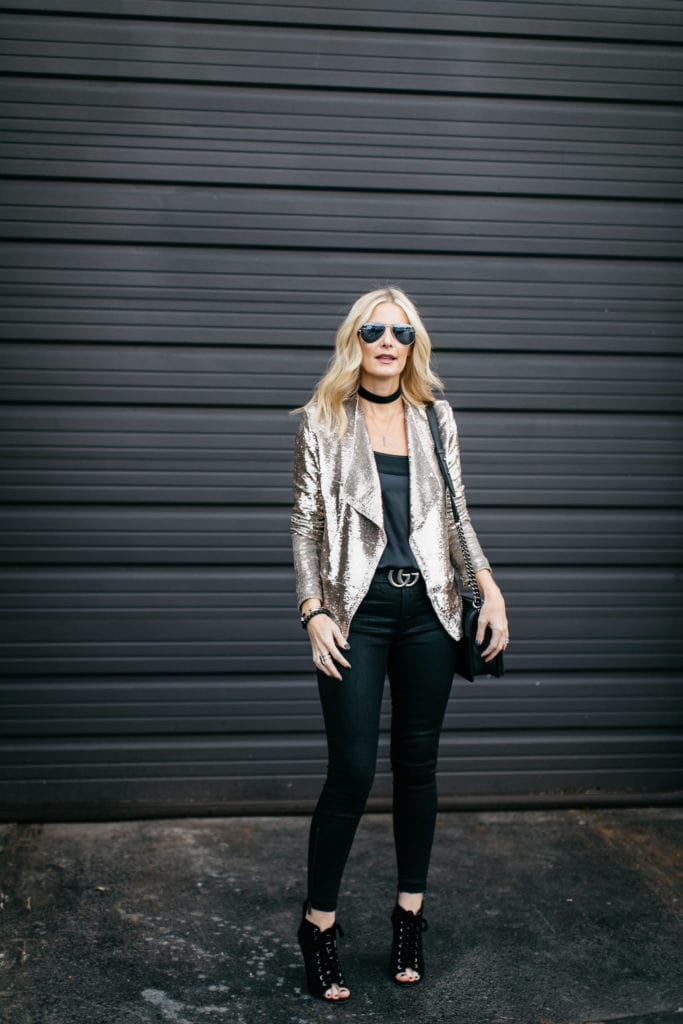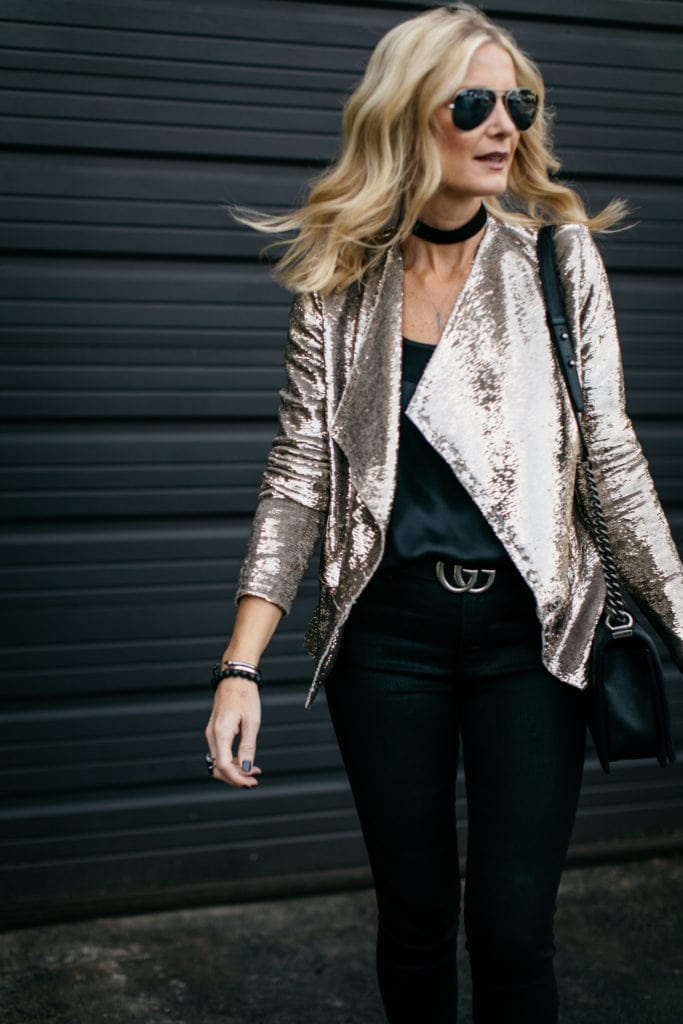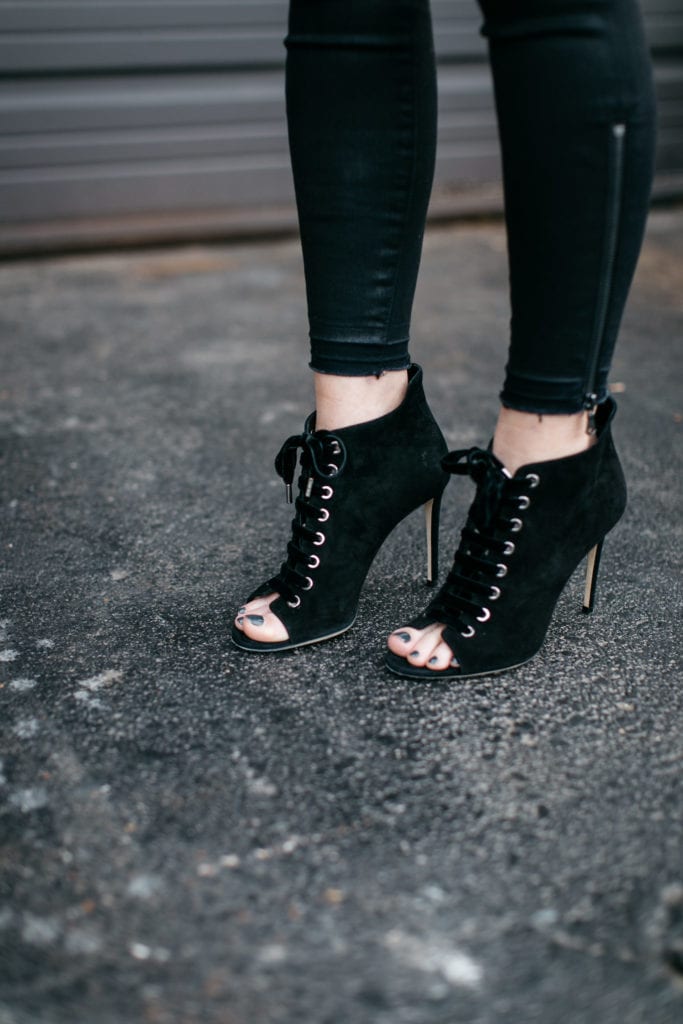 IRO SEQUIN JACKET FOR LESS HERE // J BRAND COATED JEANS // JIMMY CHOO HEELS  ON SALE // GUCCI BELT // BLACK CHOKER // BLACK RAY-BANS // CHANEL BOYBAG SIMILAR 
Thank you so much for stopping by today and shopping with me!  Have a fabulous day!  XOXO, Heather
STAY IN THE KNOW:  Don't forget to sign up for my exclusive News Letter – I share hot trends, amazing sale alerts, giveaways, and much more!  Sign up by clicking here.
PHOTOGRAPHS BY MARY SUMMERS OF M.A.S. PHOTOGRAPHY