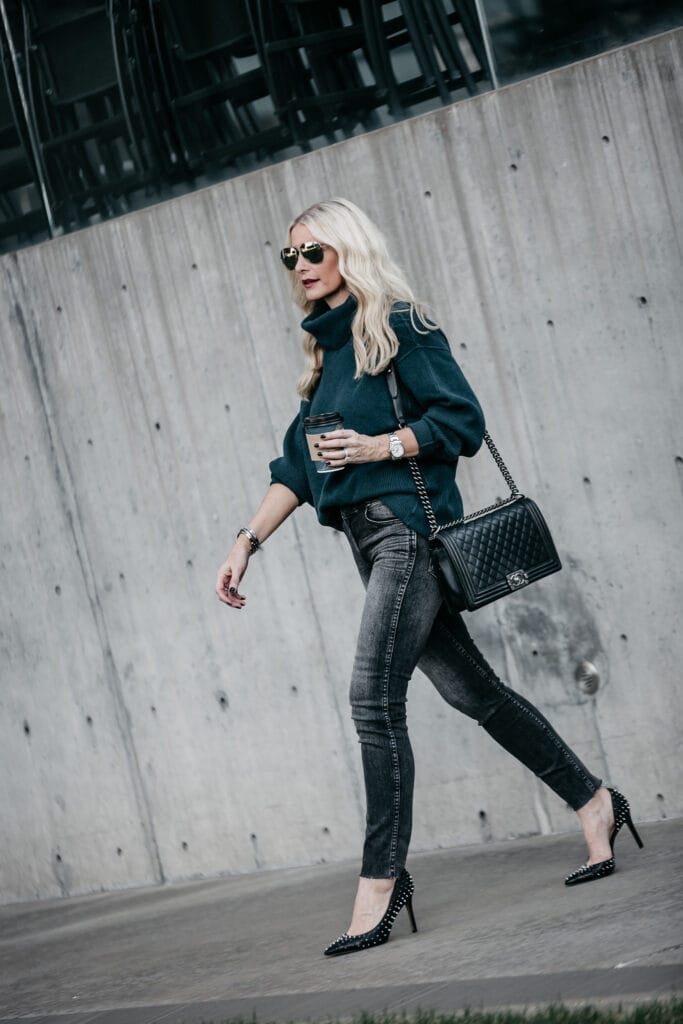 Happy Wednesday ladies!
Can you believe that Thanksgiving is just 2 weeks from this Thursday?! I honestly can NOT, but I will say I'm very excited about this holiday for a few reasons.  First, it's a great time to gather with family and just focus on spending time together and not have to stress about buying gifts like you do for Christmas.  Second, since 4 of my 5 kids are in college I'm really looking forward to seeing all of them and having fun together!  Finally, I get to eat a few of my favorite homemade desserts – pecan pie and banana pudding!  My sweet Granny Jean taught me how to make both of these delicious desserts and I still make them today the same exact way!  Scroll down all the way to see my Granny Jean's pecan pie recipe, it's seriously so amazing!!

I thought I would share with all of you what to wear on Thanksgiving since this holiday will be here before we know it.  My personal go-to outfit to wear on Thanksgiving is a cozy and chic sweater and some comfortable jeans.
WHAT TO WEAR ON THANKSGIVING:
1.) A CHUNKY SWEATER –
This chunky turtleneck sweater is by Free People and I'm obsessed with this dark teal blue color, it looks so good on basically all skin tones!  It's super soft and not itchy at all which is something I always look for in a good sweater.  I love this sweater paired with jeans and heels as I did in this post, but it would also look super chic paired with some over the knee boots too which is the shoe I'm actually going to wear it with on Thanksgiving.  It comes in 5 gorgeous colors (I also have the black) and runs true to size, I'm wearing a size XS.
CHECK OUT A POST I DID WEARING THE BLACK VERSION OF THIS COZY SWEATER 
SHOP OTHER COZY SWEATERS PERFECT TO WEAR ON THANKSGIVING:

2.) COMFORTABLE JEANS-
This is key if you want to eat all the delicious food that comes along with Thanksgiving, especially the desserts, my personal favorite!  These versatile gray jeans by Hudson are very comfortable and I adore this wash of denim, in fact, so much I actually wrote an entire post on how to style gray jeans!  They're high waisted which means they're slimming, always a plus and the waist band has really cool detailing on it making these uber chic jeans anything but ordinary!  These jeans also hold their shape really well, yet they are surprisingly comfortable.  They run true to size, I'm wearing a size 25.
3.) APPROPRIATE SHOES-
If I were attending a fancier Thanksgiving dinner I would wear these super edgy studded heels.  However, if your Thanksgiving dinner is more casual I would opt for some comfortable yet incredibly chic over the knee boots which is what I'll be wearing.  I've had these Stuart Weitzman boots for a few years now proving they're timeless and as much as I've worn them they're definitely worth the investment!  I do realize there are a bit pricey so I did find this pair that I love and they're a fraction of the price, you're welcome!

SCROLL DOWN FOR GRANNY JEAN'S DELICIOUS PECAN PIE RECIPE
Please feel free to email me at [email protected] if you have any questions!  I'm always happy to help with styling or picking out a specific outfit for an event!   Have a fabulous day!!
CHECK OUT MY INSTAGRAM SHOP HERE TO SHOP ALL OF MY INSTAGRAM LOOKS
YOU CAN ALSO DOWNLOAD THE LIKETOKNOW.IT APP AND FOLLOW ME ON IT BY CLICKING HERE.
STAY IN THE KNOW:  Don't forget to sign up for my exclusive News Letter –  Sign up by clicking here.
Thank you so much for stopping by today, I truly appreciate all of you!  XOXO, Heather
FREE PEOPLE SWEATER WEARING A SIZE XS // HUDSON JEANS WEARING A SIZE 25 // SAM EDELMAN STUDDED PUMPS // CHANEL BOY BAG FOR LESS HERE 
GRANNY JEAN'S PECAN PIE RECIPE:
She actually made her own crust from scratch which I don't do, so in the recipe below, I used a frozen pie crust
1 cup Karo Dark Corn Syrup
3 eggs
1 cup sugar
1/2 tablespoon of maple syrup
2 tablespoons butter, melted
1 teaspoon pure vanilla extract
1-1/2 cups (6 ounces) pecans
1 (9-inch) unbaked OR frozen** deep-dish pie crust
Preheat oven to 350°F.
Mix corn syrup, eggs, sugar, butter and vanilla using a spoon. Stir in pecans. Pour filling into pie crust.
Bake on center rack of oven for 60 to 70 minutes (see tips for doneness, below). Cool for 2 hours on wire rack before serving.
**To use prepared frozen pie crust: Place cookie sheet in oven and preheat oven as directed. Pour filling into frozen crust and bake on preheated cookie sheet.
RECIPE TIPS: Pie is done when center reaches 200°F. Tap center surface of pie lightly – it should spring back when done. For easy clean up, spray pie pan with cooking spray before placing pie crust in pan. If pie crust is overbrowning, cover edges with foil.