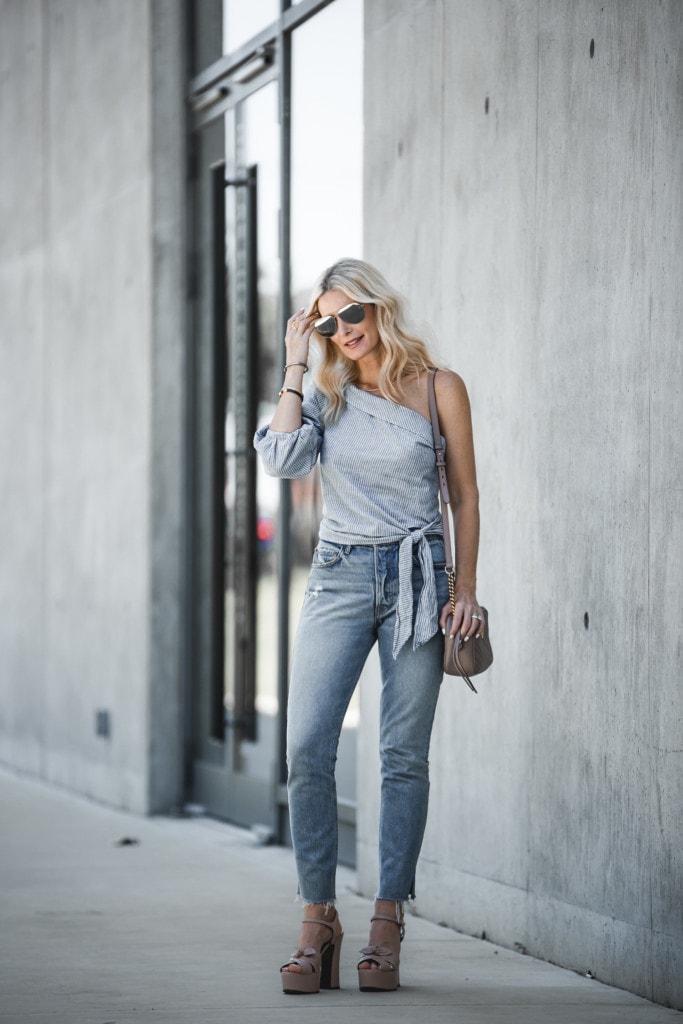 I'm a huge lover of anything one shoulder, whether it's a top or a dress, this is one trend I adore to wear!  This one shoulder top by Splendid is super chic yet very affordable!  I love it paired with jeans, but it also looks very cute paired with cut-offs and some fun wedges which is what I'll be wearing on the 4th of July!  This top also comes in a red and white stripe which I love too, both so perfect for the 4th of July!  This top runs true to size, I'm wearing a size 2.  The best part, this amazingly chic one shoulder top is on MAJOR SALE, originally $88 marked down to $52.80, quite a steal for such a fabulous top making it a definite summer staple!

My vintage inspired jeans are by GRLFRND Denim, an amazing newish denim line carried at Revolve and Barney's.  They're high-rise, perfectly cropped and I love the versatile light wash!  They're made of the new vintage inspired denim which is more of a rigid, non-stretchy denim so these jeans do a great job of holding their shape which is always a plus!    I won't wash these very often so they'll become perfectly broken in and comfortable!  They run true to size, I'm wearing a size 25.  For all you fashion forward denim lovers out there these would be the perfect addition to your denim collection!
YOU CAN VIEW ANOTHER POST I DID IN THESE EXACT JEANS BY CLICKING HERE.
My platform heels were quite a splurge for me, but every once in a while it's ok as long as it's something you know you'll wear a ton, so for the cost per wear they're worth it!  They're statement heels for sure and trust me, they make a statement!  They take any ordinary outfit to the next level. These fabulous heels look amazing with jeans, but will also pair well skirts and dresses too.  They're actually super comfortable because of the massive platform which is always a plus.  I love the neutral color so much because they literally go with everything!  The ones I linked are a similar light pink shade which are also extremely versatile, the exact ones I'm wearing are sold out.  I also linked some blush pink platforms at a much lower price point that would pair well with this look too!
YOU CAN VIEW ANOTHER POST I DID IN THESE EXACT HEELS BY CLICKING HERE.
MY FAVORITE SALE OF THE YEAR IS COMING UP – THE NORDSTROM ANNIVERSARY SALE!  This is the only sale around where you can actually shop all the amazing new fall clothes at a discount!  I get 70% of my new fall wardrobe at this amazing sale and so should you!  Here are 4 things you need to know to shop this sale effectively and efficiently!
1.)  THE 2017 NORDSTROM ANNIVERSARY SALE TAKES PLACES JULY 21ST -AUGUST 6TH to everyone.  EARLY ACCESS BEGINS JULY 13TH AND IS ONLY AVAILABLE FOR NORDSTROM CARD HOLDERS.  
2.) IN ORDER TO BE ABLE TO SHOP THE SALE EARLY (JULY 13TH) YOU MUST BE A NORDSTROM CARD HOLDER.  I highly recommend this because a ton of the products sell out during this early access period.  As long as you are approved by July 9th you should be able to shop this sale early and get a $20 Nordstrom note toward your next purchase.  CLICK HERE TO APPLY.  
3.) Because I'm a blogger, I actually get to shop this sale one day before early access on July 12th.  I will be posting tons of photos from my dressing room on my Insta Stories so be sure to follow along to get a sneak peek of my top picks!  If you're not already following me on Instagram you can do so by clicking HERE.  You will be able to SHOP these items at 12 AM (MIDNIGHT) the morning of July 13th from my BLOG so make sure you are signed up for my exclusive News Letter.  Sign up by clicking here. 
CHECK OUT MY INSTAGRAM SHOP HERE TO SHOP ALL OF MY INSTAGRAM LOOKS
STAY IN THE KNOW:  Don't forget to sign up for my exclusive News Letter –  Sign up by clicking here.
Thank you so much for stopping by today, I truly appreciate all of you!  XOXO, Heather
SPLENDID ONE SHOULDER TOP WEARING A SIZE 2 // GRLFRND DENIM JEANS WEARING A SIZE 25 // YSL CANDY PLATFORMS ON SALE // GUCCI HANDBAG // GOLD CHOKER SIMILAR // MIRRORED SUNNIES
PHOTOGRAPHS BY MARY SUMMERS OF M.A.S. PHOTOGRAPHY
Share the post "WHAT I'M WEARING ON THE 4TH + THE INSIDE SCOOP ON THE NORDSTROM ANNIVERSARY SALE"