Good Morning, it feels a little like Christmas morning today!  I found so many amazing fall finds all part of the Nordstrom Anniversary Sale 2018 which officially starts TODAY, YAY!  It's actually the first day of the early access sale which goes from today through July 20th and this is available for Nordstrom card holders only.  If you would like to shop the sale early and don't have a Nordstrom card, don't worry, you can sign up HERE.
IF YOU SEE ANYTHING YOU LOVE PLEASE ORDER NOW BECAUSE THESE ITEMS WILL SELL OUT AND FAST WHICH IS WHY I'M POSTING 10 LOOKS IN ONE POST
Under each photo you'll find my SHOP THE POST and a brief description of what I'm wearing a why I love it.
SHOP LOOK 1:

In look 1 above I'm wearing an amazing long and luxurious cashmere cardigan by Equipment and it's so fabulous!!  A few other bloggers got it as well because it's that good!  It's so cozy and soft, in fact it's what I put on yesterday as soon as I got home to work on this post because it's so comfortable!  It is a bit pricey so I found one I'm actually wearing in LOOK that's a cashmere blend and half the price.
I'm also wearing a great basic lace cami (only $22.90) that's a crazy good price, these are so perfect to wear under all your favorite jackets and cardigans.
My black jeans are uber slimming and by Good American, they are super high-rise, have a raw edge hem and a slight rip at the knee.  I'll be wearing these jeans all season long with everything!  They run big so size down one size, I'm wearing a size 00.
In all my looks I'm wearing a dainty silver choker by Lana that I love!  It looks so good layered with other dainty necklaces.  It comes in silver, gold and rose gold.
Finally, my super edgy and cool black studded pumps are by Sam Edelman so the price point is amazing and I'm obsessed with them!  A ton of other bloggers got these shoes as well because we all loved them so much!  You can see them styled several ways in today's post proving their versatility making them a definite must-have!
SHOP LOOK 2:

I'm so in love with this casual and effortless Free People sweater, it's crazy comfortable and it comes in several gorgeous colors.
My jeans are by Good American and I love the versatile was and raw edge hem.  They're super high-waisted so they're uber slimming and they are very comfortable!  These run big so order one size down, I'm wearing a size 00.
My black mules are by Vince and I love these simple shoes, so easy to throw on with just about anything and look polished and put together.  I also LOVE these black suede mules that I actually bought as well, they're only $49 and they come in several colors, quite a steal for such a fabulous mule!
SHOP LOOK 3:

I'm in love with this dark green hooded faux leather jacket by Blanknyc.  It's under $100 and comes in multiple colors including black making it a definite fall staple!  It runs true to size, I'm wearing an XS.
My sexy lace up cami by Wayf I'm wearing under neath is such a great top for a date night or gno and the price point is amazing, only $38.90 for this fab top, quite a steal!  It runs true to size, I'm wearing an XS.
My black jeans are by Frame and they're more of a mid-rise although they say high-rise.  I love the zippers at the bottom, so chic and edgy!  They run tts, I'm wearing a size 25.
My open toe booties are so comfy and I love the cone shaped heel, so on trend!  They come in multiple colors and would be the perfect super comfy wearable bootie that you would find yourself wearing a ton!
SHOP LOOK 4:

I adore this simple and crazy soft choker tee by Paige Denim.  It looks fabulous alone or underneath a great leather jacket or cozy cardigan making it a definite must-have!
My gray jeans are such a versatile color, they literally go with all of my fall looks.  They're by Frame and more a mid-rise jeans versus a high-rise even they say high-rise.  They're super soft and comfortable and run true to size, I'm wearing a size 25.
Ok, these might just be my favorite NSALE shoe purchase, these silver block heels by Alexander Wang are AMAZING!!  I'll definitely be wearing these beauties a ton this summer and fall.  They go with everything and are crazy comfortable!!
SHOP LOOK 5:

Wearing everything I mentioned in look 4 above topped with the COOLEST leather jacket EVER by Alexander Wang!!  I tried this on and just fell in love with it.  The fit is amazing and I love the uber cool faded denim jean jacket insert that you can't take out by the way, but I still love it!  This is definitely an investment piece, but don't worry I found a great dupe below that's very cool and only a fraction of the price!
SHOP LOOK 6:

This jacket is the great dupe I found that's similar to the Alexander Wang jacket, it's real leather and has an uber cool black hoodie attached.  The leather is super soft and the fit is pretty amazing, I'm wearing an XS.  I also found yet another dupe by Blanknyc I love too, all linked below for you!
SHOP LOOK 7:

Tee, jeans, and silver heels details written under look 4.  This burgundy cardigan by Free People is super cozy and soft, I want to sleep in it it's so comfy!  It comes in multiple colors and the price point is fabulous!
LOOK 8:

This faux suede drapy cardigan comes in multiple colors and the price can't be beat.  It's crazy soft and I love it paired with a simple tee and jeans!
LOOK 9:

If you've been reading my blog for awhile now then you know I'm a sucker for any faux fur jacket and this one is no exception!  I'm so in love with this gorgeous green color and it's so cozy and soft!  It runs true to size, I'm wearing an XS.
See my jeans, top and bottie details under look 3.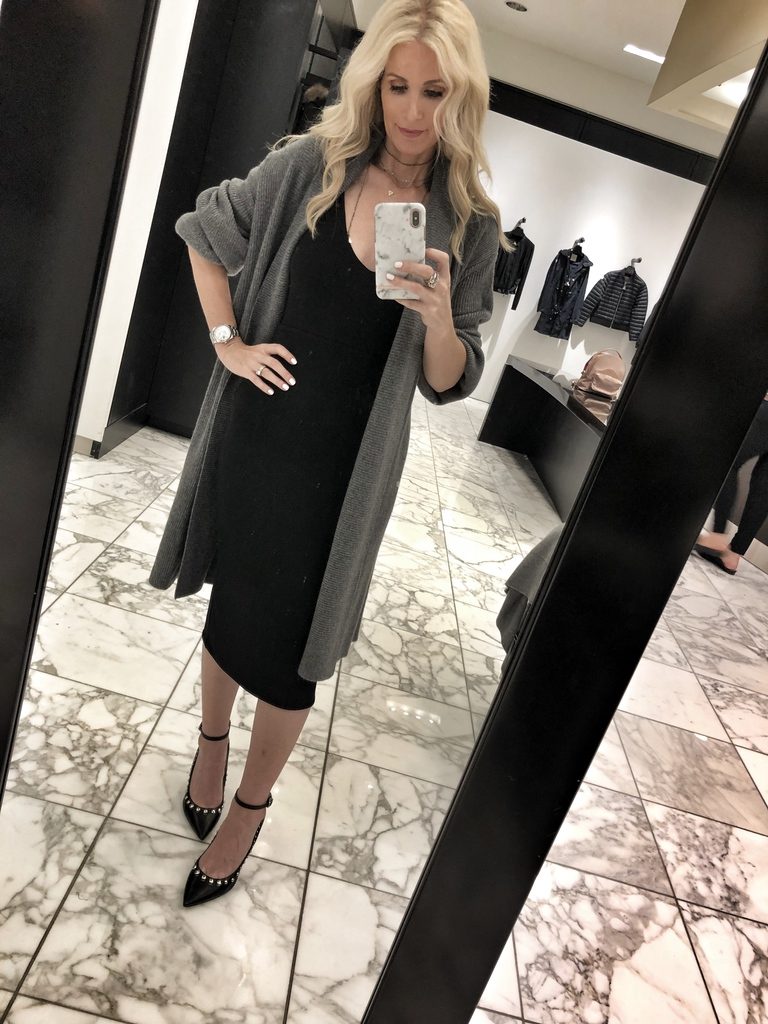 LOOK 10:

This fitted black midi dress is so flattering and I love the below the knee length.  It comes in lavender too which I tried on and DON'T recommend unless you're 18 or a body builder with a perfect body.  This black one however, is amazing, the material is thick enough so it's smoothing.  It runs true to size, I'm wearing an XS.
This cashmere blend cardigan is a dream, so soft and cozy, and a great price for cashmere!
See my shoe details under look 1.
LOOK 11:

Yes, another faux fur jacket I'm obsessed with and so are a few other bloggers!  It like the softest jacket ever and I can't wait to wear it all winter long!  It runs true to size, I'm wearing an XS.
Gray jeans details see look 4.
My gorgeous black suede boots are by Stuart Weitzman and I adore them!  This scrunchie boot trend is going to be huge this fall.  The heel height is pretty low so these are actually fairly comfortable.  They also come in a really pretty brown color as well which I love!  They run true to size so take your normal boot size.
LOOK 12:

One of my favorite type of casual jackets is the army jacket and I'm so in love with this one by Madewell!  I love it worn with the sleeves scrunched up and paired with a simple tee.  It's super versatile and the price point is amazing!  This jacket runs true to size, I'm wearing an XS.
My striped tee is under $12 and so soft and comfy!  I love a good black and white striped because they look so good under almost any jacket, blazer, or cardigan.  This one runs true to size, I'm wearing an XS.
Jean and heels details under look 1.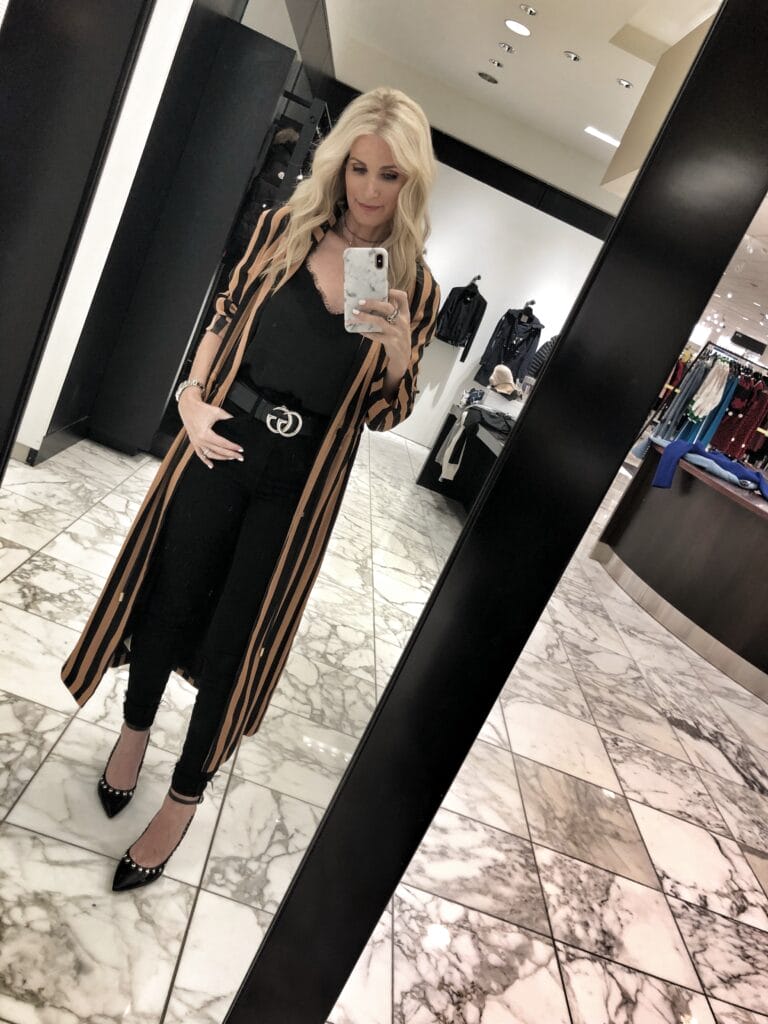 LOOK 13:

This Topshop long duster is so glamorous and on trend! I adore the bold stripes and the material is thick and wrinkle free which is always a plus!  This look would be perfect for a date night or gno!
Jeans, heels, and lace cami details under look 1.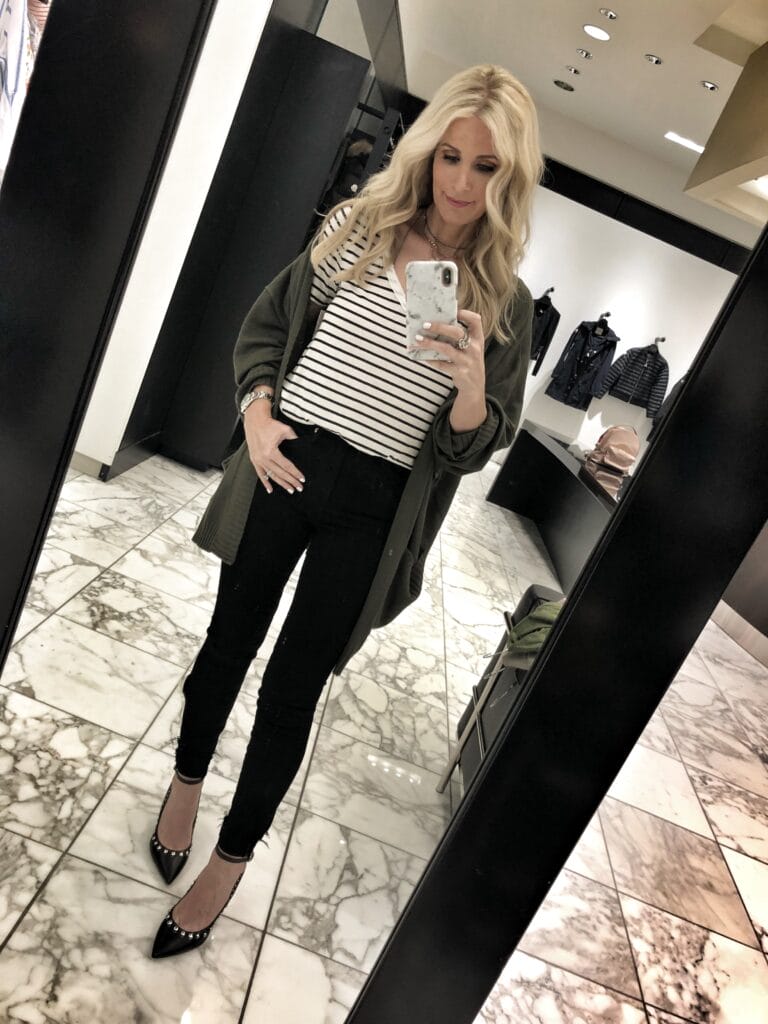 LOOK 14:

This army green cardigan is so cozy and chic!  It comes in multiple colors and the you won't believe the price!
Jeans and heels details under look 1.  Striped tee details under look 12.
SUPER EASY WAY TO SHOP MY LOOKS:  DOWN LOAD THE LIKETOKNOW.IT APP AND FOLLOW ME ON IT BY CLICKING HERE.
CHECK OUT MY INSTAGRAM SHOP TO SHOP ALL OF MY INSTAGRAM LOOKS.
STAY IN THE KNOW:  Don't forget to sign up for my exclusive News Letter – Sign up by clicking here.
Thank you so much for stopping by today, I truly appreciate all of you!  XOXO, Heather
NORDSTROM ANNIVERSARY SALE 2018
Share the post "NORDSTROM ANNIVERSARY SALE TRY ON SESSION SHARING 14 LOOKS"