STEAL VS. SPLURGE + 2 AMAZING NEW BEAUTY FINDS
in Fashion on 05/06/2017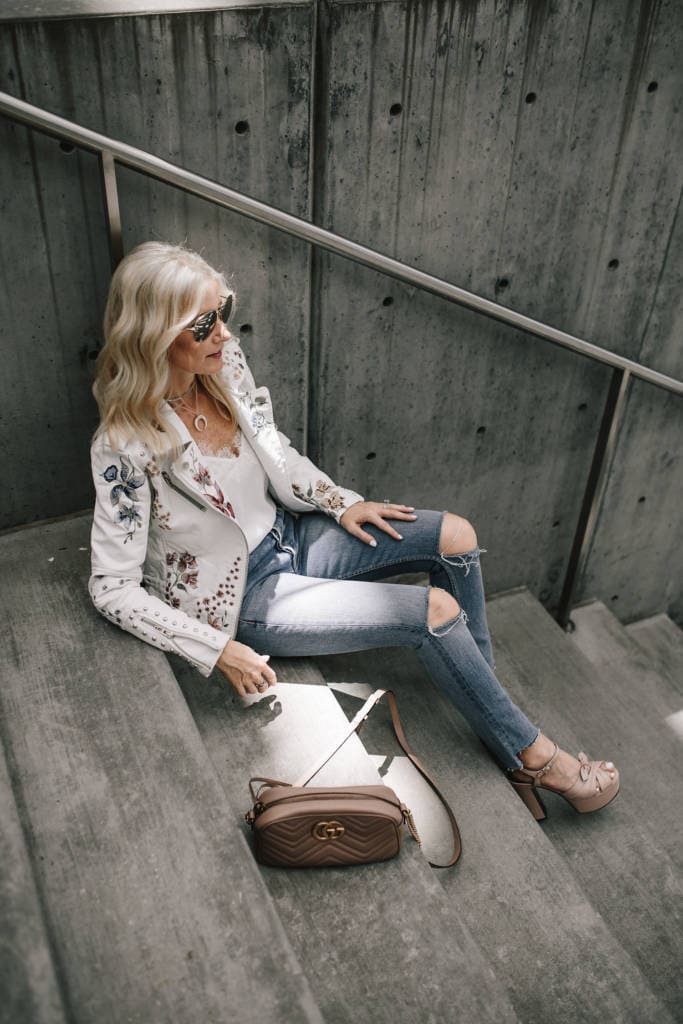 STEAL VS. SPLURGE:  As I'm sure you know if you've been following my blog for a while now, I'm a huge fan of moto jackets, especially the ones made by Blanknyc, super high quality at an amazingly affordable price point!  This white floral moto jacket is so GORGEOUS, the detailing is impeccable and the fit is perfect, I'm wearing an XS.  This white shade is so perfect for spring/summer, it looks good paired with light denim, but would also pair well with black or dark denim too.  It also comes in black which is super cool too!  This jacket looks almost identical to the Alice + Olivia one that's over $1200!!  Can you believe that, this one is only $168, quite a steal for such an AMAZING jacket!

I paired this chic embroidered moto jacket with my new favorite Grlfrnd jeans, they're high-rise, perfectly cropped and I love the distressing!  They're made of the new vintage inspired denim which is more of a rigid, non-stretchy denim so these jeans do a great job of holding their shape which is always a plus!  I took them to my tailor and had them cut off and leave the raw edge hem perfect for showing off my favorite pair of heels!  I won't wash these very often so they'll become perfectly broken in and comfortable!  They run true to size, I'm wearing a size 25.  For all you fashion forward denim obsessed girls out there these would be the perfect addition to your denim collection!
By the way, my YSL platforms are on SALE HERE AND HERE!!  These heels are super comfortable and make you look really tall, always a plus if your petite like me! 
2 AMAZING BEAUTY FINDS:
1.) KA-BROW CREAM EYEBROW GEL:  I've been on the hunt for quite sometime now for the perfect shade for my eyebrows, it seemed most make-up lines only carried 3 colors, one for blondes, one for brunettes and one for red heads.  Well the blonde shades were to light and the brunette shades were too dark for me.  When I came across this line – Benefit – they actually had 6 shades and the #3 shade is perfect for me – not too dark or too light.  It comes with a tiny brush perfect for applying and it stays on ALL DAY!  My eyebrows have never looked better, I highly recommend giving this brow gel a try, you'll be so glad you did!
2.) BENEFIT LIPSTICK AND LIN LINER IN ONE:  This is the coolest lipstick ever, it actually has a built in lipliner so your lips look fuller after applying only one coat!  I got the Lusty Rose shade and it's so pretty, the perfect medium pink shade!  This lipstick stays on so well and feels really good on too!  You can view a video of how to apply this amazing lipstick by clicking here.

CHECK OUT MY INSTAGRAM SHOP HERE TO SHOP ALL OF MY INSTAGRAM LOOKS
STAY IN THE KNOW:  Don't forget to sign up for my exclusive News Letter –  Sign up by clicking here.
Thank you so much for stopping by today, I truly appreciate all of you!  XOXO, Heather
BLANKNYC MOTO JACKET WEARING A SIZE XS // GRLFRND DENIM JEANS WEARING A SIZE 25 // CAMI NYC WHITE LACE CAMI WEARING AN XS (RECEIVE 30% OFF WITH CODE SOHEATHER) // YSL CANDY PLATFORMS ON SALE // GUCCI HANDBAG // SILVER CHOKER // WHITE HORN NECKLACE // MIRRORED SUNGLASSES
PHOTOGRAPHS BY MARY SUMMERS OF M.A.S. PHOTOGRAPHY
My mission is to empower women to look and feel confident. I hope through the different looks I create that I am able to inspire YOU to express yourself in a way that makes YOU feel good – on the inside and on the out. If you wear what you love and what you feel your best in your confidence will shine through and that is the best accessory a woman can wear! Every woman deserves to look and feel like the best versions of themselves, no matter what their age!

beauty

chic-at-every-age

fashion

fitness

lifestyle

travel

videos