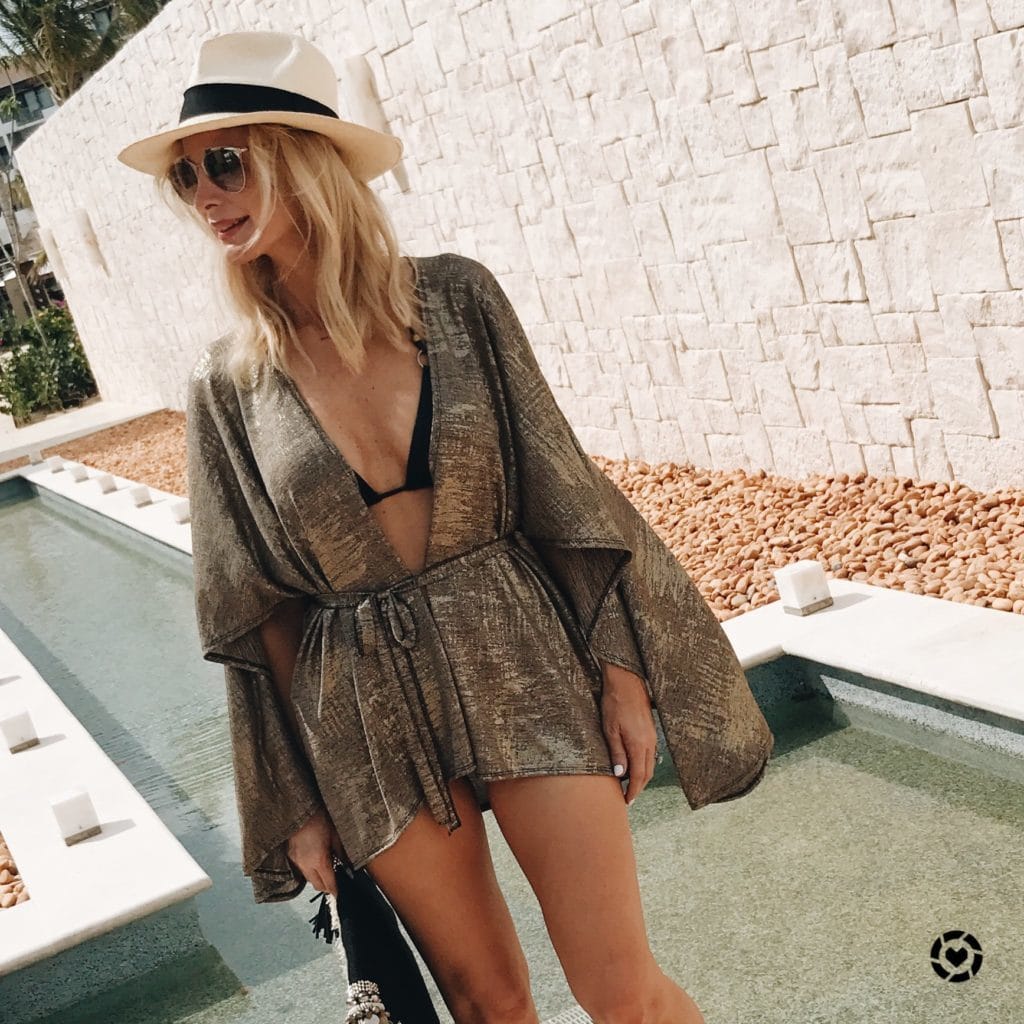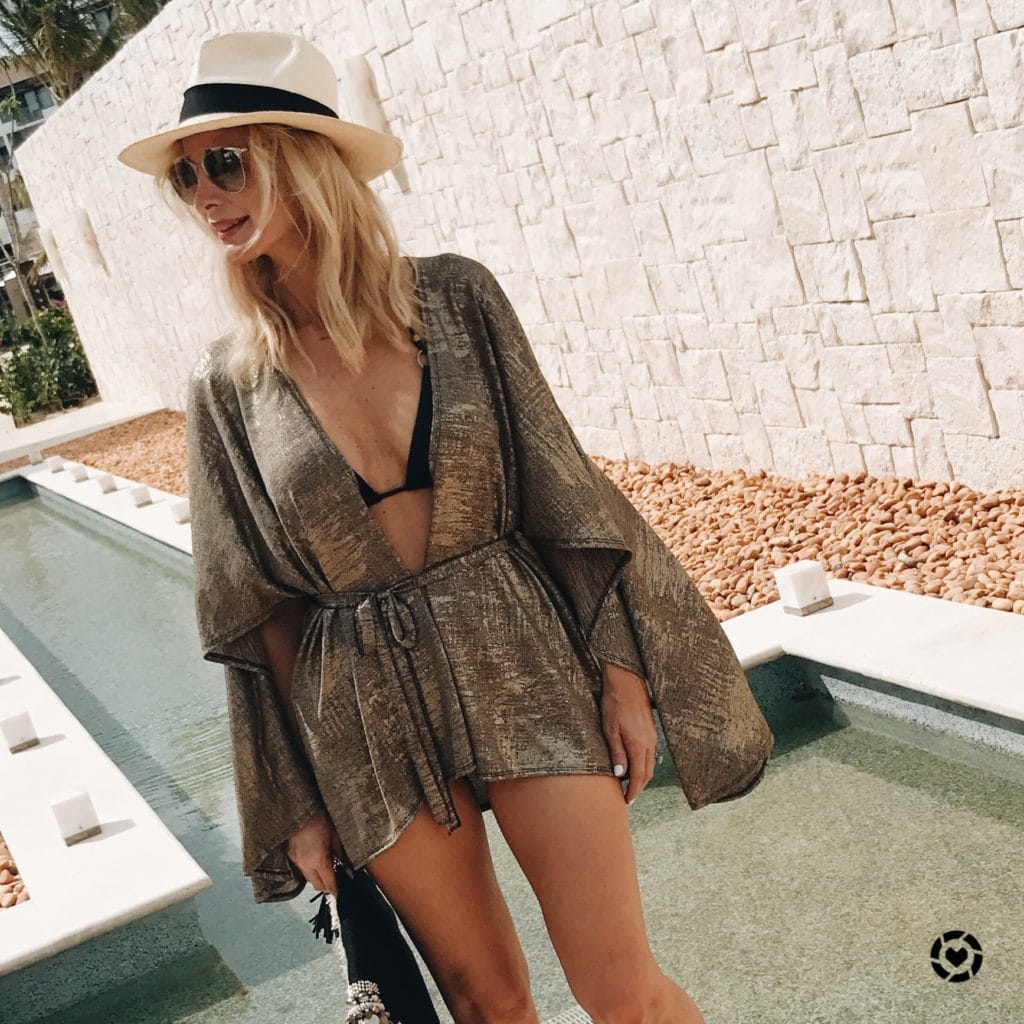 I just got back from Cancun, Mexico and we had a fabulous time!  These are the looks I actually wore while I was in Cancun.  The above metallic kimono is probably my favorite piece I took there!  It's so amazingly chic and for only $68 it's a definite must-have!  I also wore it un-tied with a simple black tank and cut-offs for a casual day look to breakfast one morning.

One of my favorite things to wear while I'm at the beach are rompers, they're so comfortable yet incredibly chic!  This one I'm wearing is by Astr, one of my favorite Nordstrom brands.  It runs true to size, I'm wearing a size XS and the price point is amazing, only $128 for this adorable romper!  My wedges I'm totally in love with!  The pale blush pink shade is so perfect for all of the spring hues and they're super comfy!  The exact ones I'm wearing are almost sold out in this color so I linked some in the same color and a very similar style which I love just as much.

I never go the beach without a hat, ever!  It keeps the sun off of my face and covers up my crazy beach hair!  This one I'm wearing I love, it's big enough to cover my face yet not super over whelming, and can you believe it's only $39, such a steal!  I'm also a huge fan of a simple black swim suit.  It doesn't have to be a two piece either, if your more comfortable in a one piece that's fine, just remember this:  a black swim suit is always super slimming and uber chic!

Another thing I love to wear at the beach are maxi dresses, I think they are so glamorous and pretty!  The one I'm wearing is super soft so it's really comfy and I love the sexy off the shoulder neck line.  The best part:  it's on MAJOR SALE for only $57!  Grab one before they sell out, trust me you'll love it!  It runs true to size, I'm wearing a size XS.

A cool shot my husband took while we were walking on the beach.  Again, I'm a huge fan of the black swim suit, it's slimming, chic, and effortless!   I highly recommend adding a black swim suit to your wardrobe, your future self will thank you!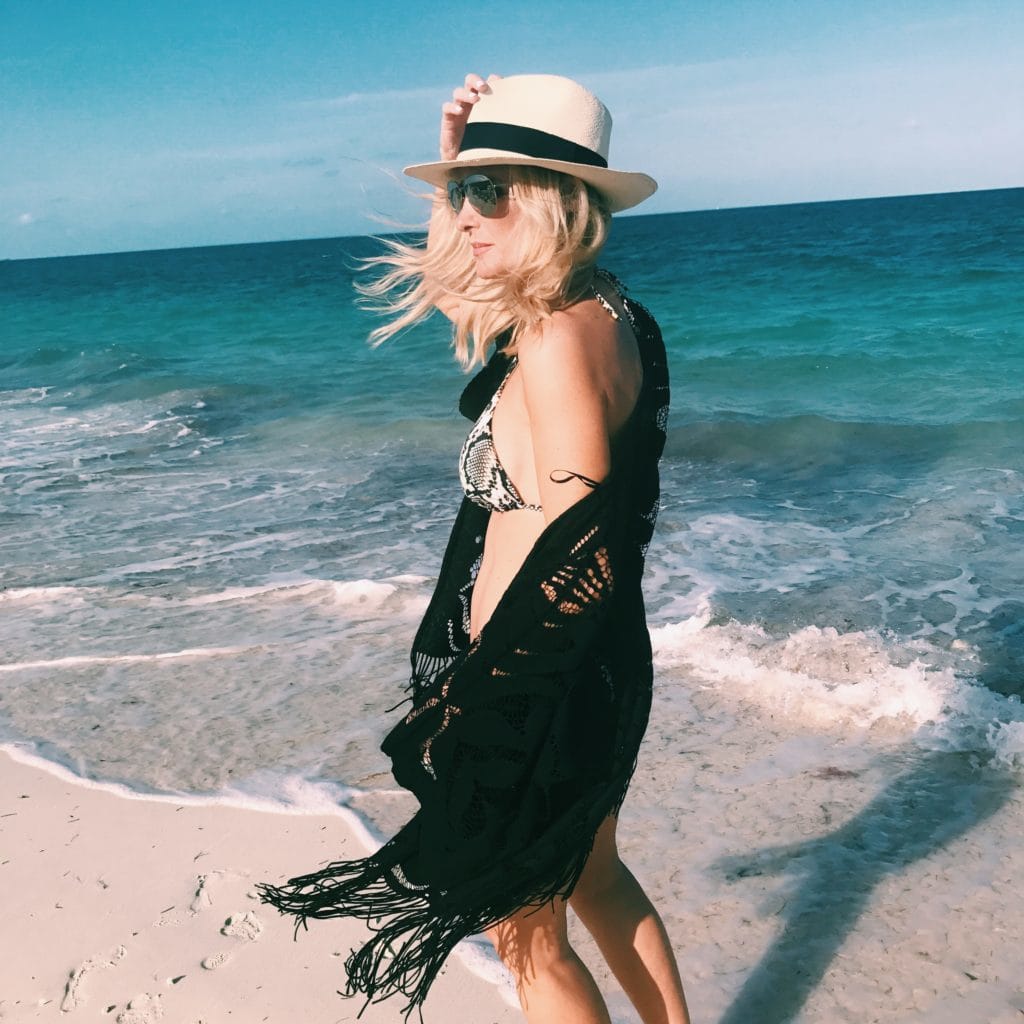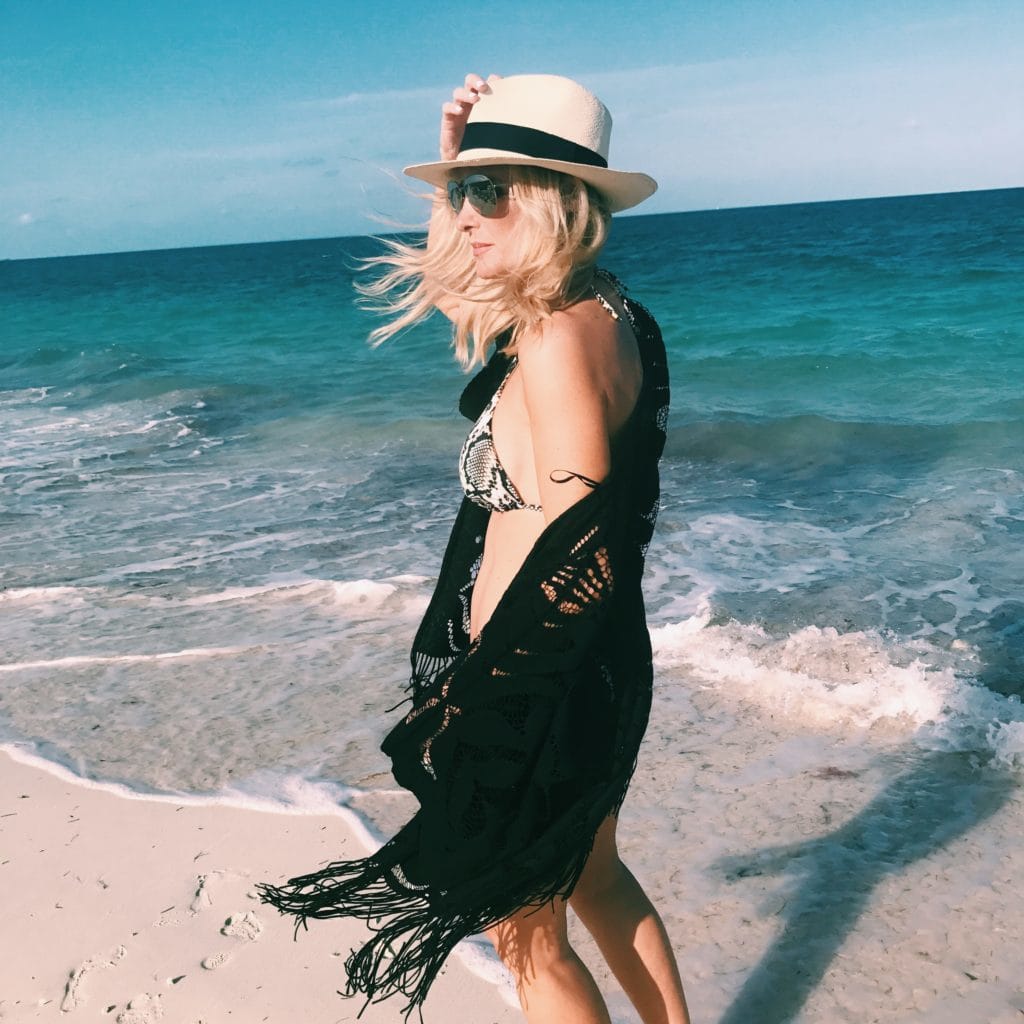 I love this cover-up too, it's a fun fringe black kimono that is open in the front, but you can also tie it.  The exact one I'm wearing is old so I linked one very similar I found at Nordstrom that I love just as much!  Of course, I'm wearing my favorite beach hat to cover up my crazy hair!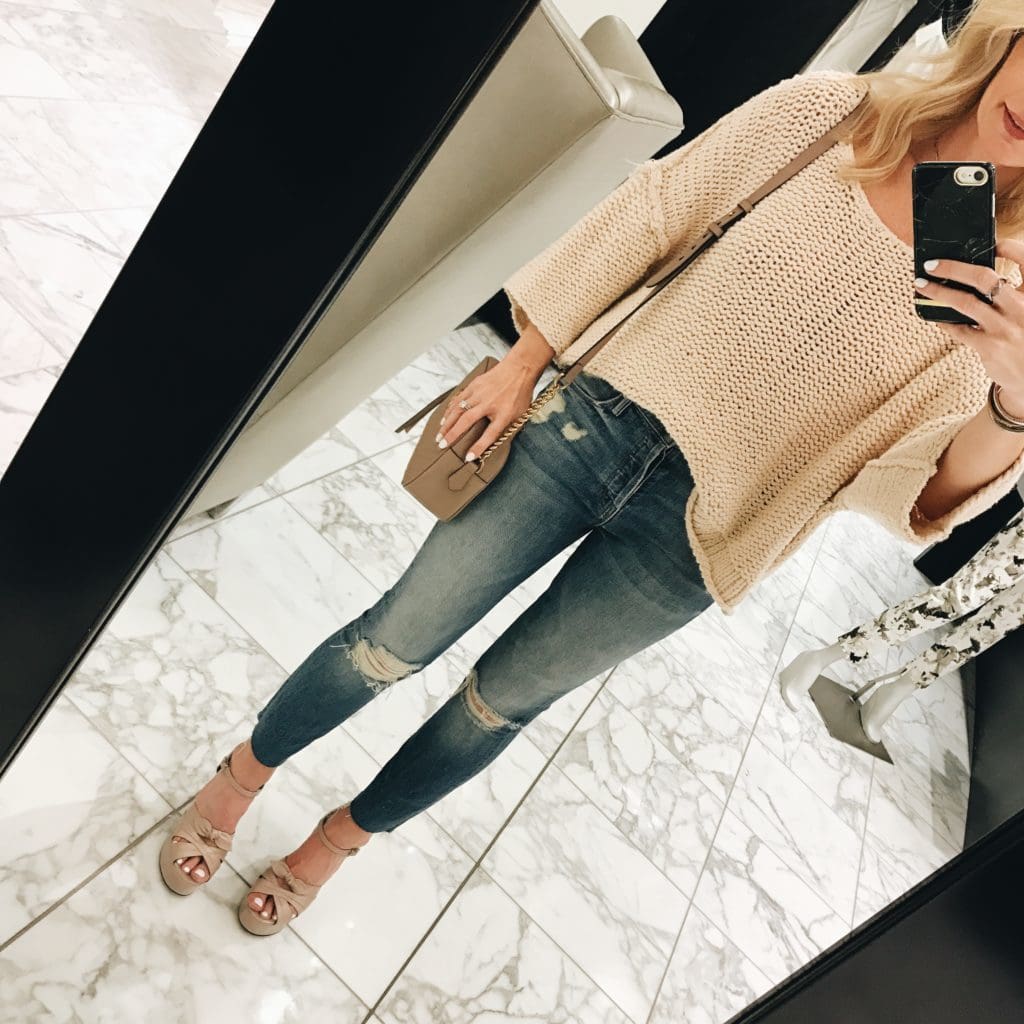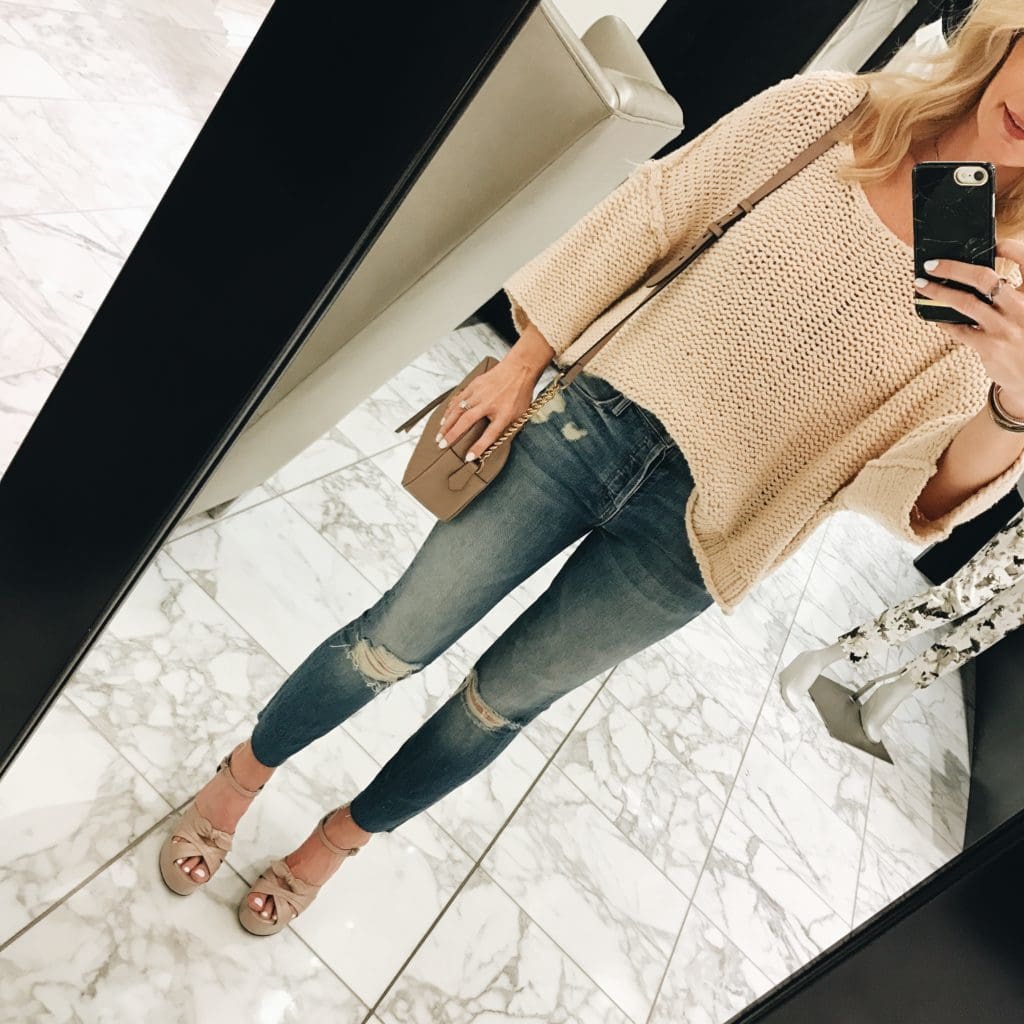 This is the exact look I wore on the way home to the Airport except I swapped out these shoes for the blush pink wedges I wore above with the blue romper.  This cozy and chic knit is perfect for traveling because it doesn't wrinkle and it's really comfy! It runs true to size, I'm wearing a size XS.  I'm also really loving my new high-rise distressed Mother jeans, the wash is so versatile and the fit is impeccable, I'm wearing a size 25.  I had my tailor cut them off and leave the raw edge hem so they would be the perfect length for me!

Thank you so much for stopping by today and shopping with me!  I'm so grateful for all of you!!  XOXO, Heather