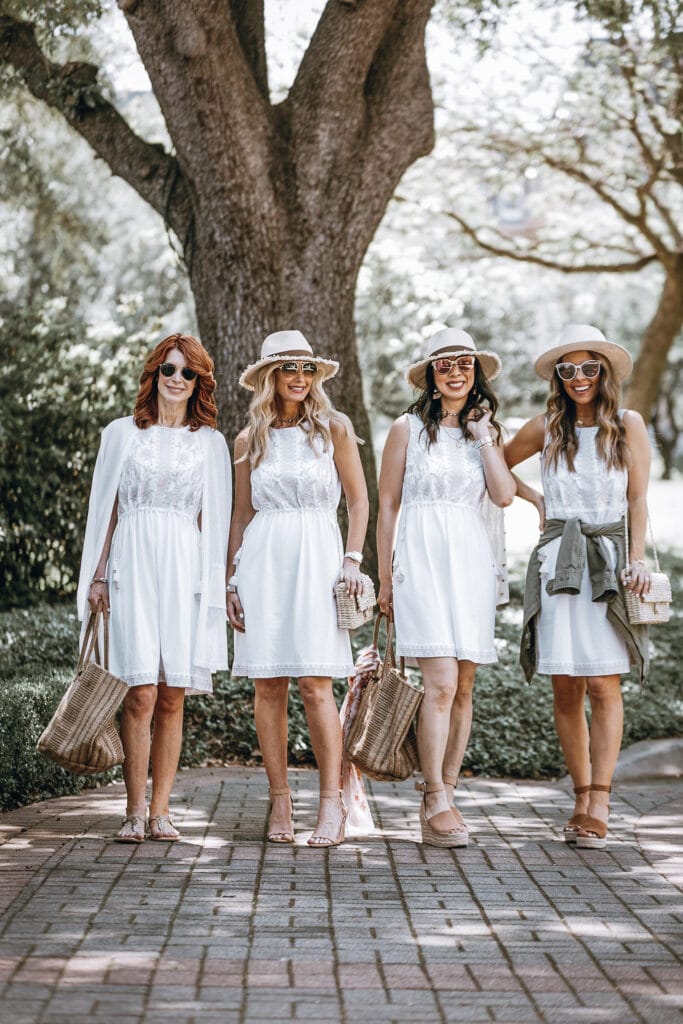 It's that time again, our CHIC AT EVERY AGE series featuring these darling white dresses by J Jill!
Natalie Keinan of THE FASHION HOUR  // Samantha Stewart of  STYLE OF SAM // Cathy Williamson of  THE MIDDLE PAGE
I'm thrilled to be teaming up with J Jill showcasing this effortless white dress styled 4 ways.  It's always a good idea to have a simple and versatile white dress on hand because there are so many occasions you can wear it!  It can be worn super casual during the day with sneakers or flats to run errands or on the weekends just running around.  You can also dress it up a bit like I did and pair it with some fun heels and a chic clutch for a girls' night out or a date night.  I love the pretty embroidery on the top and the ties at the waist allow you to cinch it up as much as you would like making it ultra slimming, always a plus!  The material is super soft and comfy, it feels really good against my skin, in fact, it sort of feels like I'm wearing a night gown, it's that comfortable!  It runs true to size, I'm wearing an XS.  I highly recommend adding this chic and versatile dress to your spring wardrobe, it will take you many places in style and comfort!  Oh and by the way, it's under $100 making it quite a steal and a definite must-have!
SHOP THE DRESS BY CLICKING HERE
SHOP THE HAT BY CLICKING HERE 
SHOP THE STRAW BAG BY CLICKING HERE
My fun straw hat is from J Jill too and I love it!  I wore it the other day with jeans, wedges and a simple tee to brunch and got tons of compliments on it.  It would also look uber chic pool side or at the beach!  Would you believe it's only $49, for this price it's a definite no brainer!
My fabulous straw bag from J Jill is so versatile, I know I'll be carrying it a ton this summer!  It can be worn cross body, on the shoulder, or as clutch.  I personally love it worn on the shoulder and I adore the neutral color because it will literally match everything. I'm going to Paris and Italy in a few weeks and this bag is for sure coming with me!  I'll be carrying it cross body during the day with casual looks and dressier at night as a clutch which proves it's versatility.  The best part, this fun straw bag is under $50 making it a definite spring staple!
A special thank you to J Jill for sponsoring this post!
SUPER EASY WAY TO SHOP MY LOOKS:  DOWN LOAD THE LIKETOKNOW.IT APP AND FOLLOW ME ON IT BY CLICKING HERE.
CHECK OUT MY INSTAGRAM SHOP HERE TO SHOP ALL OF MY INSTAGRAM LOOKS.
STAY IN THE KNOW:  Don't forget to sign up for my exclusive News Letter – Sign up by clicking here.
Thank you so much for stopping by today, I truly appreciate all of you!  XOXO, Heather