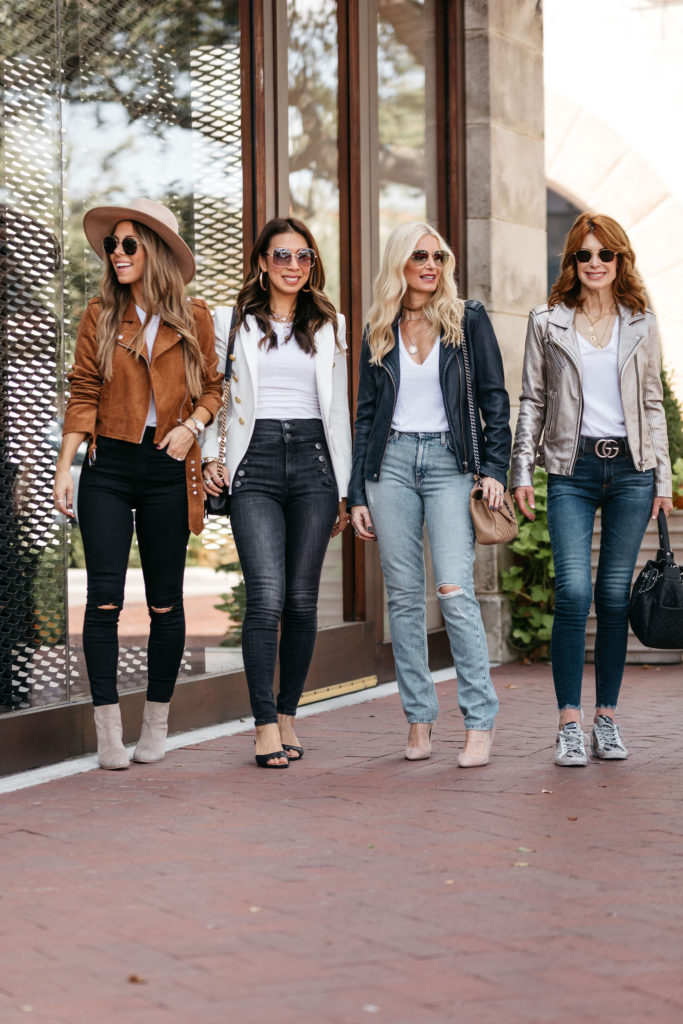 It's that time again, our CHIC AT EVERY AGE series and we're all so excited to be featuring moto jackets!
Natalie Keinan of THE FASHION HOUR  // Samantha Stewart of  STYLE OF SAM // Cathy Williamson of  THE MIDDLE PAGE
SHOP MY LOOK:

HOW TO WEAR A MOTO JACKET:
The moto jacket is one of the most versatile jackets made and every woman should own at least one amazing moto jacket.  The reason a moto jacket is so versatile and timeless is that it can be styled in numerous ways, dressy and casual.  In today's post, we have all styled it more on the casual side by pairing it with denim but know that you can easily wear a moto jacket over a dress or skirt as well.  Pairing a moto jacket over a dress or a skirt will create a more dressy ensemble while adding an edgy vibe to the entire look which speaks well to my signature style, how about you?  Since I'm recommending every woman should own at least one amazing moto jacket I'm going to give you 3 tips to help you find the perfect moto jacket.  If you're wondering what other wardrobe staples you should own check out my latest post and video titled:  16 PIECE FALL CAPSULE WARDROBE. 
3 TIPS TO BUYING THE PERFECT MOTO JACKET:
1.) THE FIT:
The fit is the most important factor in choosing the right moto jacket.  If it's too big you can end up looking much larger than you really are and trust me, no one wants this.  If it's too small it can also give the illusion of making you look bigger and not proportional so needless to say finding the right fit is EVERYTHING!  To test if the jacket fits you properly you must try it on obviously, it should feel snug in the shoulders but not feel binding in any way.  Make sure you wear the type of shirt you will be wearing the most under your jacket.  For me, I live in a warmer climate so I almost always wear tees or camis under my moto jackets.  If you live somewhere colder and know you will be wearing sweaters under your moto jacket then try it on with while wearing a sweater.  The sleeves should hit you just above your thumb knuckle.  You should also see how it looks from the back making sure it's not too big or too small in the waistline or the shoulders.  One way to tell if it fits you in the shoulders is to lean against the wall sideways and make sure the shoulder of the jacket doesn't hit the wall before you do – I hope that makes sense. Bottom line, If you're not sure if a jacket fits you the correct way you can always take it up to your tailor and ask them, a good tailor should be able to tell you right away if the jacket fits you properly.
2.) THE QUALITY OF THE MATERIAL:
The quality of leather, suede, or faux leather is extremely important because this will dictate if a jacket looks cheap or expensive.  Just because a jacket is expensive doesn't mean it looks like it and just because a jacket is less expensive doesn't mean it looks cheap.  You just need to know what to look for.  If the leather (faux or real) looks plasticky, too shiny, or feels rough and rigid don't buy it.  It will not only look cheap but it won't be comfortable and no one wants to walk around in a jacket that is uncomfortable.  If it's real leather it should be buttery soft and mold to your body.  I find that leather jackets made of lambskin are the softest and most expensive looking.  Blanknyc makes the most expensive-looking AFFORDABLE moto jackets and Iro makes the best real luxury leather jackets on the market, hands-down!  Madewell also makes a really good real leather moto jacket, in fact, I just featured the camel one in my recent p0st titled: 16 PIECE FALL CAPSULE WARDROBE so be sure and check that out.
3.) THE HARDWARE:
Make sure the hardware is high-quality and that the zippers look good and work properly.  If the zippers are too small or too shiny they can end up looking cheap.  I think that silver or matte black zippers look the best and the most expensive.  Be sure and check the zippers too making sure they work because on a cold day you may want to zip up that cool-girl moto jacket!
OUTFIT DETAILS: 
IRO LEATHER JACKET:
As I mentioned above Iro makes the absolute best leather jacket on the market!  The fit is impeccable and the lambskin is buttery soft and molds to your body perfectly.  I've been wearing Iro leather jackets for years so I have quite a collection and I justify that because I literally wear leather jackets all the time, all year round.  I love this navy blue shade, it's a bit less harsh than black and I love that this color goes with so much and that I can wear it no matter what season it is.  These leather jackets run true to size, I wear a size 34 or 36 in Iro leather jackets.  If you've been debating whether or not you should invest in a REAL leather jacket, I highly recommend investing in an IRO leather jacket!  Trust me, it will be a versatile and timeless jacket you'll have in your wardrobe for many years to come!
AG WHITE TEE:
My favorite high-quality white tee is this one by AG jeans.  I've had it for like 3 years and it still looks brand new!  The material super soft and doesn't pill like most cheap white tees.  I highly recommend adding this scoop neck tee to your t-shirt collection, this will be one that stands the test of wear after wear because it's that good!  This tee runs true to size, I'm wearing an XS.
HUDSON JEANS:
If you're not a skinny jean type of girl I think you should give these Hudson jeans a shot.  They more of a straight leg with and a bit of a longer length so they're actually very slimming.  I had to have them hemmed so just know that come much longer than this.  I'm 5'4 to give you a reference.  These jeans are high-waisted so they make your legs look long and I love the minimal distressing on the jeans making them look chic and edgy.  They do have a bit of stretch to them which means they're very comfortable and they will stretch out a bit.  Order one size down, for this reason, I'm wearing a size 25 and wish I would have gotten the 24.
IRO LEATHER JACKET WEARING A SIZE 34 // HUDSON JEANS WEARING A SIZE 25 // AG WHITE TEE // JIMMY CHOO PUMPS FOR LESS HERE // SAINT LAURENT HANDBAG FOR LESS HERE // COIN NECKLACE SIMILAR
FEEL FREE TO SUBSCRIBE TO MY NEW YOUTUBE CHANNEL FOR STYLE, BEAUTY, AND FITNESS TIPS TO HELP WOMEN LOOK AND FEEL CONFIDENT
CHECK OUT MY INSTAGRAM SHOP TO SHOP ALL OF MY INSTAGRAM LOOKS
YOU CAN ALSO DOWNLOAD THE LIKETOKNOW.IT APP AND FOLLOW ME ON IT BY CLICKING HERE.
STAY IN THE KNOW:  Don't forget to sign up for my exclusive News Letter for AMAZING STYLE TIPS, SALE ALERTS, AND MUCH MORE!
Thank you so much for stopping by today, I truly appreciate all of you!
XOXO, Heather